Come gazers, grazers, and dreamers
Looking for that elusive "tall font" black Russian fuzz tone? You're in luck. The Russian-Pickle Fuzz MkIII relies on a NOS BC183 silicon transistor to generate its aggressive, sputtery breakup and creamy distortion characteristics. This Pickle appears to have a bit more gain on tap than the '90s classic, and its EQ is slightly more pronounced, but the vibe is 100% intact. It's exactly the kind of pedal you want at your feet when playing grunge, shoegaze, or desert rock. It also sounds monstrous on bass, so feel free to unleash it on your favorite 4-string.
"Everything the big one was, except smaller." — Bob Cedro, Dunlop/Way Huge
Way Huge is as famous for its defiantly chunky enclosures as its genre-bending tonal sugar. The Way Huge Smalls series offers all the charm of its full-sized contemporaries — tone, cheek, and visual impact — in a more board-friendly format. These pedals don't just conserve real estate; they sip current, which means you can run a board full of them with little to no impact on your power supply. The metal enclosures, jumbo knobs, and iconic Way Huge graphics authentically capture the full impact of these reborn classics, with no hit to vibe or ability. A feature we at Sweetwater were quick to note was the Smalls series' true hard-wire bypass switching, which promises to better preserve the integrity of your signal when disengaged.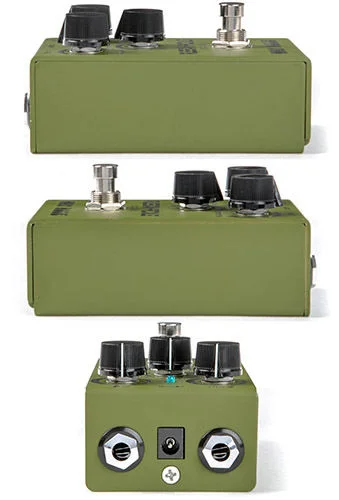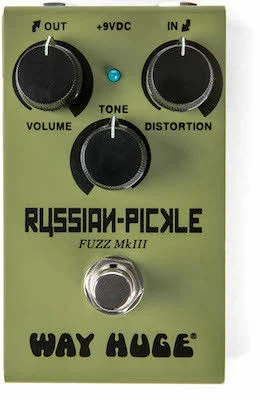 Way Huge Smalls Russian-Pickle Fuzz MkIII Features:
All the charm and tone of the full-sized Russian-Pickle — only smaller
Better suited to tight pedalboards
Evokes a classic "tall font" Russian fuzz pedal
Powered by a NOS BC183 silicon transistor
Creamy distortion characteristics
Aggressive, sputtery breakup
Great for rock, shoegaze, and desert rock
True hard-wire bypass switching preserves signal integrity
Low current draw (1.8mA)
9-volt battery or power supply required; not included