Taylor 614ce Builder's Edition V-Class - Wild Honey Burst
Taylor's Builder's Edition 614ce with V-Class Bracing
Combining premium aesthetics and ergonomics with tone-enhancing details, Builder's Edition instruments represent the pinnacle of Taylor craftsmanship. The Builder's Edition 614ce Grand Auditorium acoustic-electric guitar features revolutionary V-Class bracing, which boosts volume evenly across the tonal spectrum, increases sustain, and improves the natural intonation of the instrument by creating a more synergistic response from the soundboard. This fosters a more harmonious relationship between the notes you play, helping chords to ring out in cohesive splendor.
This guitar boasts spectacular tonewoods: figured bigleaf maple for its sides and gorgeously bookmatched back, torrefied Sitka spruce for the top, and West African ebony for the fingerboard. This combination results in a sound that's ultra-responsive to your touch, enhancing maple's natural transparent brightness with warmth, richness, and dimension. Premium Builder's Edition features include a beveled ebony armrest for enhanced picking and strumming comfort, along with 21:1 Gotoh 510 tuners for precise tuning. While you delight in its beautiful tone, your eyes will savor the Builder's Edition 614ce's tasteful appointments, which include ebony binding and elegant mother-of-pearl Scepter fingerboard/headstock inlays.
V-Class bracing: a sonic revelation
Bracing is the internal framework of an acoustic guitar that helps shape its sound. Although X-bracing has been standard in acoustic guitars for over a century, it creates an innate conflict between two key elements of a guitar's sound: volume and sustain. The guitar's top (its soundboard) contributes to both. The flexibility of the top generates volume (projection), while its stiffness generates sustain. And with X-braced guitar tops, here's where the trade-off comes in: when something is made stiffer, its flexibility is reduced (and vice versa).
V-Class bracing changes all that. With Taylor's V-Class bracing, an acoustic guitar top can be both stiff and flexible — for more volume and sustain. V-Class bracing provides stiffness parallel to the strings for more rigidity and hence sustain. Flexibility on either side generates the air movement necessary for robust projection. It's the best of both worlds. This groundbreaking innovation also improves intonation, not only producing notes that are louder and have longer sustain, but are also more in tune with each other. Guitarists at Sweetwater are gobsmacked. But don't take our word for it — pick up the superb Taylor 614ce Builder's Edition and experience it for yourself!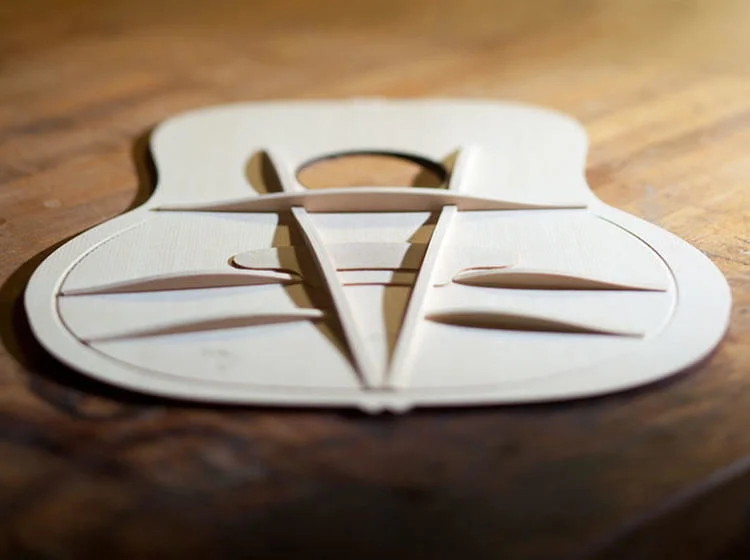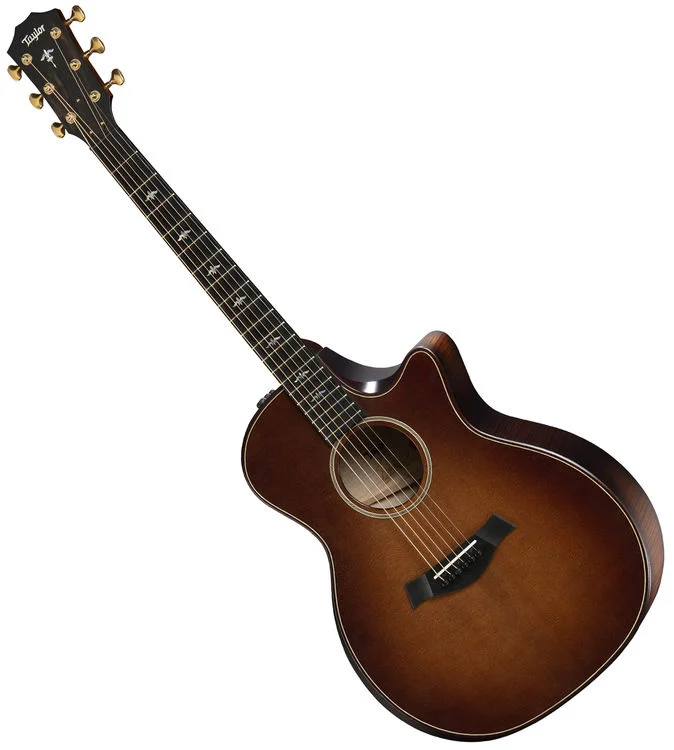 Grand Auditorium body style delivers exceptional presence
Taylor's beloved Grand Auditorium body style, featured on the 614ce, employs the width and depth of a dreadnought. But its waist is narrower, which gives Grand Auditorium–bodied acoustic guitars a sleeker look with more treble zing. The 614ce's Grand Auditorium body style also helps to sharpen the definition of each note, balancing out nicely with the excellent projection of its Sitka spruce top. Taylor uses their Silent Satin finish on the top, back, and sides to reduce contact noise for a cleaner overall sound.
An inspired tonewood combination
Although maple has traditionally been associated with brightness in acoustic guitars, Taylor takes a different approach with the tonewood — voicing their maple guitars to coax out the hidden complexity, warmth, and sustain. This expands maple's tonal range from a one-dimensional sound to a highly musical voice that's eminently more versatile — and highly reflective of your playing technique. As a top tonewood, Sitka spruce offers a combination of strength and elasticity that delivers a broad dynamic range with crisp articulation that's ideal for a wide range of playing styles. Taylor's proprietary roasting process minimizes the Sitka's natural damping effect to help deliver a more "played-in" tone.
Cutting-edge Taylor Expression System 2 electronics
If you play plugged in, then you're going to love the Taylor Expression System 2 (ES2) electronics built into your 614ce. The key to this fantastic system is the 3-section proprietary pickup located behind the saddle. Because of where it's positioned and how it's integrated into the 614ce's saddle, the ES2 pickup provides you with remarkably clear and accurate sound. In addition to a master volume control, a pair of tone controls lets you tweak your highs and lows to get the sound you need, and a discrete phase switch offers vital onboard feedback suppression.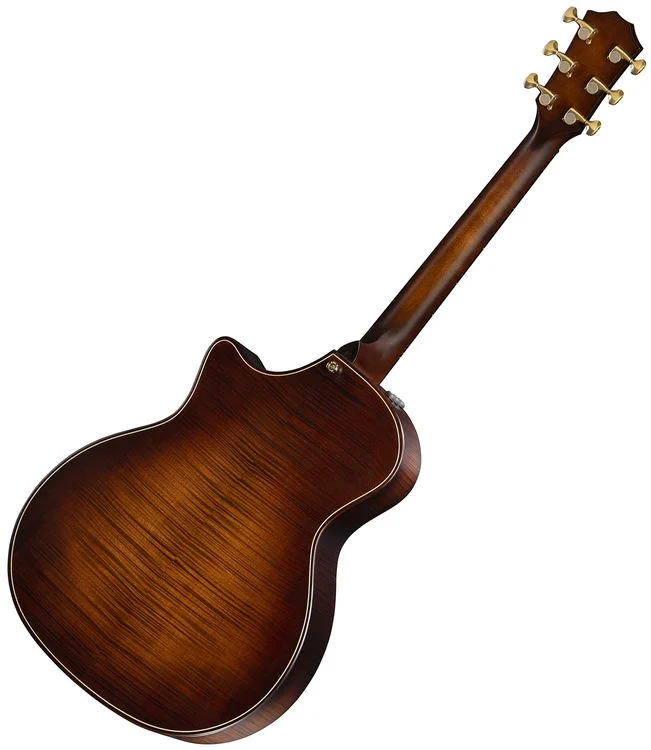 Taylor 614ce Builder's Edition Acoustic-Electric Guitar Features:
Sitka spruce top; figured bigleaf maple back and sides
Bracing: V-Class with Relief Rout
Compound cutaway
West African ebony binding
Beveled ebony armrest
Paua rosette with koa and ebony purfling
Hard rock maple neck with satin finish
West African ebony fingerboard and binding
Scepter mother-of-pearl fingerboard inlay
Headstock: West African ebony overlay, Scepter inlay
Black graphite nut, Micarta saddle
Truss rod cover: West African ebony
Scale length: 25.5"
West African ebony bridge pins
Gotoh gold 510 tuning machines with 21:1 gear ratio
Taylor Expression System 2 electronics
Silent Satin top, back, and side finish
Tech Specs
Steel

6

Grand Auditorium

Right-handed

Wild Honey Burst

Satin

Torrefied Sitka Spruce

Maple with Ebony Armrest

V-Class with Relief Rout

West African Ebony

Hard Rock Maple

West African Ebony

Mother-of-pearl Scepter

20

25.5"

Gold Gotoh 510, 21:1 ratio

Ebony

Black Graphite/Micarta

1.75"

ES2

Elixir Phosphor Bronze Light, .012-.053

Deluxe Hardshell Case

20"

16"

4.62"

A60300261100528S210
16 Januari 2021
Pesanan Gitar Bass Elektrik Bacchus WL534SBM/M BLUE-GRD Meluncur Ke Kab. Kudus, Jawa Tengah
SOLD!!! Bacchus Global Series WL-534SBM/M BLU-GRD 5String Electric Bass by SiCepat... Tengkyu Brader... Mantappp dah pilihannya yang bagus buanget... Bacchus bagus... Style & soundnya mewah buanget... Enjoyyy...
detail
16 Januari 2021
Pesanan Gitar Akustik Elektrik Taylor Academy 10E Natural Meluncur Ke Pancoran, Jakarta Selatan
SOLD!!! Taylor Academy 10E Natural Dreadnought Acoustic Electric Guitar by GOJEK... Tengkyu Brader sudah jajan gitar di IMS... Oke buanget dah pilihannya... Buat jamming di malming bareng istri asyik buanget dah... Enjoyyy...
detail
16 Januari 2021
Pesanan Pick Gitar Jim Dunlop 427PJP John Petrucci Meluncur Ke Semarang, Jawa Tengah
SOLD!!! Dunlop 427PJP Guitar Pick by J&T... Tengkyu Brader... Mantap dah pilihan pick gitarnya...
detail
16 Januari 2021
Pesanan DI Box Behringer BDI21 Meluncur Ke Kab. Gunung Kidul, D.I. Yogyakarta
SOLD!!! Behringer BDI21 DI Box & Bass Preamp by J&T... Thx Brader... Happy shopping & enjoy with your gear...
detail
15 Januari 2021
Pesanan Efek Gitar Valeton Dapper Mini Meluncur Ke Palembang, Sumatera Selatan
SOLD!!! Valeton Dapper Mini Guitar Effect Strip by AnterAja... Tengkyu Brader... Cakep dah pilihan efeknya... Selamat mencoba & berlatih... Enjoyyy...
detail
14 Januari 2021
Pesanan Stand Cymbal Mapex B600 Meluncur Ke Bogor, Jawa Barat
SOLD!!! Mapex B600 Cymbal Drum Stand by JNE... Tengkyu Brader buat jajanannya di IMS... Semoga awet...
detail
14 Januari 2021
Pesanan IVU Creator Solderless Patch Cable Kit Meluncur Ke Pasar Minggu, Jakarta Selatan
SOLD!!! IVU Creator Solderless Patch Cable Kit by GRAB... Berangkattt.... Thx Brader...
detail
14 Januari 2021
Pesanan Efek Bass Behringer BEQ700 Bass Graphic Equalizer Meluncur Ke Bogor, Jawa Barat
SOLD!!! Behringer BEQ700 Bass Graphic Equalizer by J&T... Tengkyu Brader buat belanjanya...
detail
13 Januari 2021
Pesanan Pedal Gitar Valeton Surge EP1 Active Wah Meluncur Ke Tangerang, Banten
SOLD!!! Valeton Surge EP-1 Wah Pedal by SiCepat... Tengkyu Brader... Kecil2 wah nya super galak abizzz.... Enjoyyy...
detail
13 Januari 2021
Pesanan Pedal Gitar Vox V847A Meluncur Ke Subang, Jawa Barat
SOLD!!! Vox V847A Wah Wah Pedal by SiCepat... Tengkyu Brader... Keren abiz dah pedal yang satu ini... Jajan di IMS dapat item menarik & harganya juga ciamik abizzz... Enjoyyy...
detail
» index berita
Enrico
Dari kemarin nyari valeton dapper acoustic mini ga ketemu2, akhirnya dapet nih disini. Malemnya chat besoknya paginya barang langsung sampe dirumah, responnya cepet bgt gokil!
Ami
Beberapa kali beli barang dari bung Tony. Pesan, bayar langsung diantar.... memuaskan, kualiatas barang ok punya.
Albert
Kabel jack bespeco 3m uda sampai nih bos. Packing aman, barang mantap, pengiriman cepat. Di tes, bagus, ga ada noise,, mantap dah, thx bos, sukses terus.
Ferdiansyah
Sellernya ramah & fast respon. Barang juga cepat sampai. Awalnya mau beli di tokped tapi udah kesorean, tapi tetep dilayanin walau manual .. proses satu jam barang sampai! Toko ini recomended. Gak ny...
detail
Salim_alamsyah
[URL]
Salam sukses selalu.terima kasih bosskuh pak tony yg selalu respect sama pelanggan,Pesanan equalizer bss fcs 966 sudah mendarat dengan mulus dijonggol nih,dan sedang saya test zoos mantap perfect bang...
detail
Arema Warda
Salam sukses ya brader, terima kasih blackstar fly stereo nya sudah sampai dengan selamat. Ane puas sekali belanja di sini, semoga terus berjalan dan makin sukses toko musik nya, the best place to b...
detail
» lihat testimonial
» isi testimonial