Add Weight to Your Riffs
Aggression. Power. Clarity. This is the trifecta of heavy guitar tone. Drop the Seymour Duncan SH-6 Mayhem Set into your axe, and harness it. These high-output humbuckers are ideal for every flavor of metal and other high-aggression genres as well. We're talking tight percussive riffs. Blazing-fast lead work. Ultra-clear pick dynamics. Churn out hard-hitting, crunchy rhythms, or pump out searing leads — it's all at your fingertips. Massive ceramic magnets and hot coil windings yield rich upper midrange harmonics and smooth fluidity when you push them and are equally capable of bell-like clean tones when you back off the gain. The SH-6 Mayhem Set will add serious weight to whatever you play.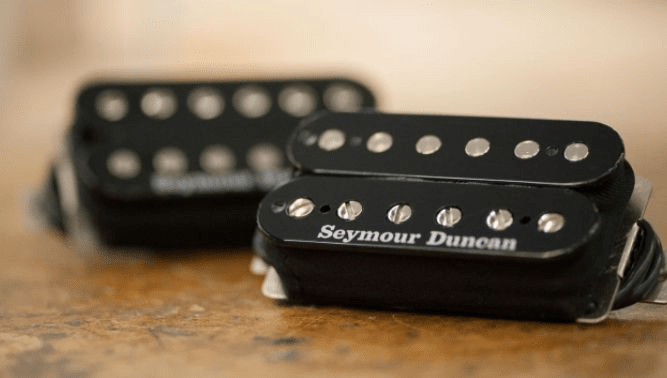 These high-output humbuckers were built for aggression
The SH-6 Mayhem Set was built for aggressive playing styles. These humbuckers are recommended for old-school metal, nü-metal, gothic, garage, punk, thrash, and other heavy rock styles, and are great for drop tunings. These humbuckers yield high output while retaining clarity. Their massive ceramic magnet and hot coil windings deliver tremendous power and raw distorted rock sounds. Both pickups come with four-conductor hookup cables to facilitate complex pickup switching setups.
Why choose Seymour Duncan?
Quite simply, it boils down to tone. Seymour Duncan has spent the majority of his life refining the art of creating pickups. Seymour Duncan is dedicated to getting the best tone possible from his pickups, from modern metal monsters to faithful reproductions of gems from the '50s and '60s. At Sweetwater, we know that tone is important to you, which is why we choose to carry Seymour Duncan pickups. With the massive amount of pickups available from Seymour Duncan, you're certain to find the sound you've been looking for.
Seymour Duncan SH-6 Mayhem Humbucker Set Features:
High-output humbucker set for metal and other high-aggression genres
Both pickups yield high output while retaining clarity
Craft tight percussive riffs and blazing-fast leads with ultra-clear pick dynamics
Massive ceramic magnets and hot coil windings yield rich upper mids and smooth fluidity under high gain
Back off the gain for bell-like clean tones
4-conductor hookup cables to facilitate complex switching setups
Vacuum wax potted for squeal-free performance