It's Hard to Take Your Eyes Off This One
The Schecter C-1 Exotic Ebony is a rare find — the perfect combination of eye-popping good looks, magical tone, and a surprisingly affordable price. This beautiful axe is built around a resonant mahogany body, with a solid maple top that's capped by a drop-dead-gorgeous ebony veneer. A fiery set of Diamond '78 humbuckers slam the front end of your amp with a tidal wave of vintage-inspired tone. Single-coil textures are also yours to command, thanks to the C-1 Exotic Ebony's 2-way coil-split toggle. Schecter's popular Thin "C" neck carve ensures effortless playability, while a super-smooth ebony fingerboard enables fleet-fingered fretwork. The C-1 Exotic Ebony comes armed with a classic-style Wilkinson WVS 50 II K knife-edge tremolo for effortless bending and diving.
Eclectic tonewood offer killer tone and eye-popping looks
The C-1 Exotic Ebony boasts an eclectic combination of tonewoods. Its resonant mahogany body is teeming with warmth and sustain, while its solid maple top adds bite and attack to your base tone. The maple top is then capped by a gorgeous ebony veneer that's guaranteed to garner jealous glances — just open your guitar case, stand back, and revel in the attention! A roasted maple/purpleheart neck adds snap and additional sustain to your playing. Lastly, a smooth-playing ebony fingerboard brings extra clarity to every note you play.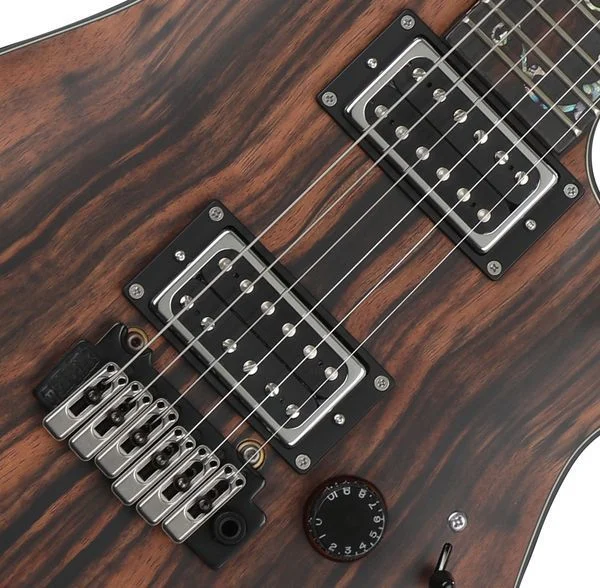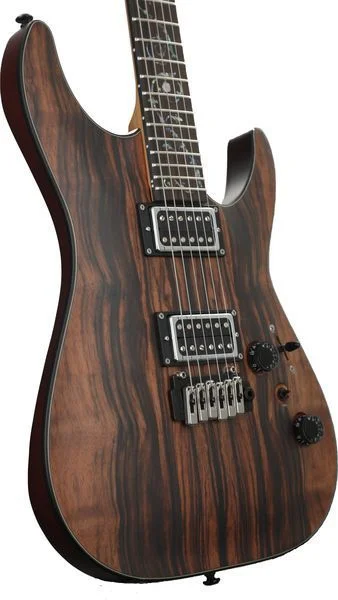 Diamond '78 humbuckers yield vintage tone with a modern kick
The Schecter C-1 Exotic Ebony delivers a decidedly vintage tone, by virtue of its Schecter Diamond '78 humbuckers, but with enough aggression and clarity to satisfy modern players. Benefit from the full gamut of tones — the C-1 Exotic Ebony delivers everything from expressive cleans to amp-pulverizing high-gain. And thanks to an additional 2-way coil-split toggle, you'll be coaxing everything from hard-hitting riffing to sweet single-coil-style bluesy tones from your C-1 Exotic Ebony. The guitarists here at Sweetwater love the thick and fluid tone of these pickups.
Ultra-thin neck turbocharges your technique
Pick up the C-1 Exotic Ebony, and you'll experience extreme playing comfort, thanks to Schecter's Thin "C" neck carve. This super-slim neck profile provides you with a major speed boost, making this axe an ideal choice for any aggressive playing style. And with the guitar's double-cut body design, you'll have no trouble reaching those high frets. Notwithstanding its slender profile, this neck gives you the dependable stability you demand, thanks to its robust bolt-on construction. Top it with a fast-playing 14"-radius ebony fingerboard (with a stunning Vine of Life inlay), and you're in frettin' heaven.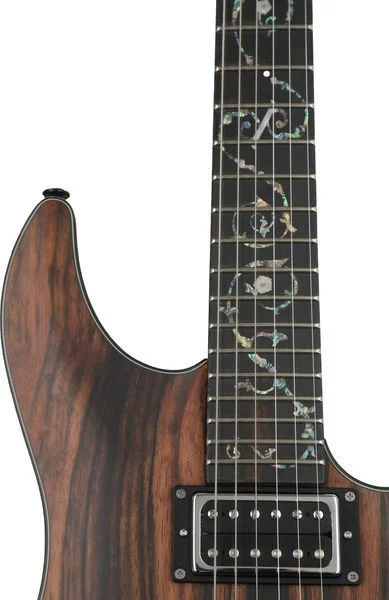 Schecter C-1 Exotic Ebony Features:
Gorgeous solidbody electric guitar with a classic voice

Resonant mahogany body is teeming with warmth and sustain

Solid maple top adds bite and attack to your base tone

Gorgeous ebony veneer is guaranteed to garner attention

Diamond '78 humbuckers slam the front end of your amp with vintage-inspired tone

2-way coil-split toggle unlocks single-coil textures

Comfortable Thin "C"-shaped roasted maple/purpleheart neck

Smooth-playing 14"-radius ebony fingerboard with extra-jumbo frets

Wilkinson WVS 50 II K knife-edge tremolo enables effortless bending and diving

Stunning Vine of Life fingerboard inlay