Plug 'n' play simplicity
The GO:LIVECAST is super simple to use. Just plug in your smartphone, connect your headphones, and you're ready to go! If you don't have any external gear, you can still stream, thanks to the built-in mic that delivers high-quality audio with optional reverb. For more impressive audio, plug in a mic, guitar, or synth into the combination TRS/XLR input. The GO:LIVECAST has an intuitive control layout. With a single touch, you can start your broadcast, play music, launch sound effects, and more. The two-volume knobs and a mic-mute button give you easy control over the mic and media levels.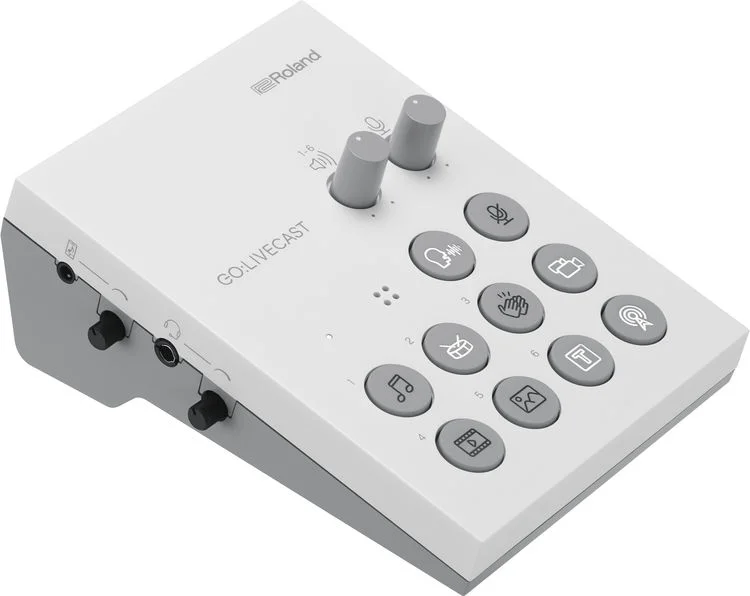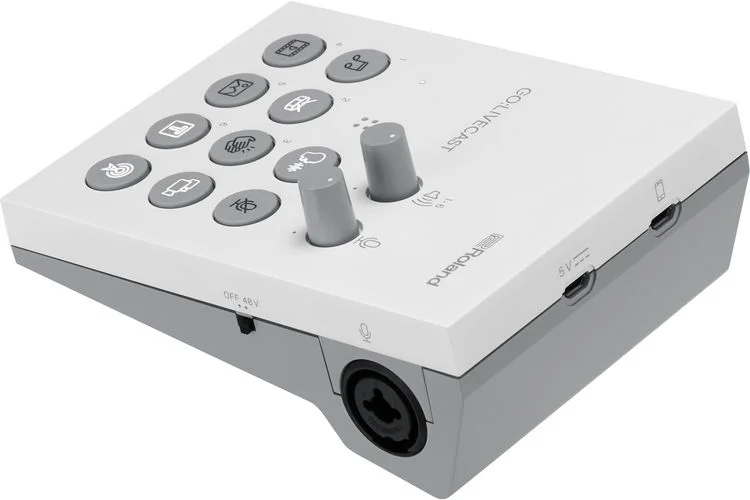 Compatible with major streaming platforms
When they designed the GO:LIVECAST, Roland made sure that all streamers could use it on their favorite streaming platform. No matter where you stream, you can use the Roland GO:LIVECAST because it's compatible with Twitch, Facebook Live, YouTube, and other major platforms. If you use multiple platforms, the GO:LIVECAST app has it handled. The app logs directly into all of your streaming accounts, so when it's time to go live, you just have to pick a platform to launch the stream. A helpful scrolling window shows your chat in the app in real-time.
Create your own library of visuals, sound effects, and more
The GO:LIVECAST is a complete pro-production studio for streaming with your smartphone or tablet. As such, you need to be able to launch your effects, emotes, sound bytes, and more. The interface includes easy-to-use tools that add some serious production value to your streams. The GO:LIVECAST offers pre-installed effects that you can supplement with your own music, photos, and videos. You can also create custom titles and texts that your audience will love.


Get the most out of your smartphone camera
The GO:LIVECAST doesn't just make it easy to manage your stream, it also optimizes your smartphone's camera. When you set up your phone or tablet for your stream, the GO:LIVECAST allows you to select the front or rear camera within the app. If you don't like the lighting or need to soften how you look, you can add one of the pre-loaded skin filters. The interface automatically adjusts your stream to portrait or landscape mode, depending on the positioning of your device, while in-camera mirroring makes sure that your audience sees the correct left/right perspective. Think you'll need even more visual variation? You're in luck, the GO:LIVECAST lets you add a second smartphone camera via Wi-Fi. To switch views, simply hit the camera switch button on your interface.
Roland GO:LIVECAST Smartphone Streaming Studio Features:
Complete livestreaming studio for smartphones and tablets

Intuitive control layout makes streaming easy

Compatible with most major streaming platforms for easy setup

Headphone output lets you easily monitor your levels

Interactive GO:LIVECAST App displays viewer comments

Customizable media libraries let you store and launch onscreen titles, music, videos, photos, and sound effects

Onboard microphone eliminates the need for any external gear

Skin filters soften and smooth harsh lighting and angles

Automatic In-camera mirroring makes sure your audience sees the same perspective as you

Combination TRS/XLR input accommodates microphones and instruments of all kinds

Onboard phantom power enables condenser microphone compatibility