Replication, not emulation
The PackRat packs nine vintage and often hard-to-find versions of the iconic rodent-themed distortion pedal into a single enclosure. When he designed the PackRat, JHS founder Josh Scott examined 45 versions of this famous stompbox and authentically reproduced their circuits. He even accounted for drift, as the original pedals were decades old, and their components had strayed from their original values. The result is a replication, not an emulation, employing a proprietary digital runway system to direct the paths of 261 components through 40 individual switches. Thus, when you plug into the PackRat, you're playing through the exact same circuitry as the original pedals. No digital modeling is involved — it's pure analog all the way. At Sweetwater, we love the authentic vintage grind we get from the PackRat.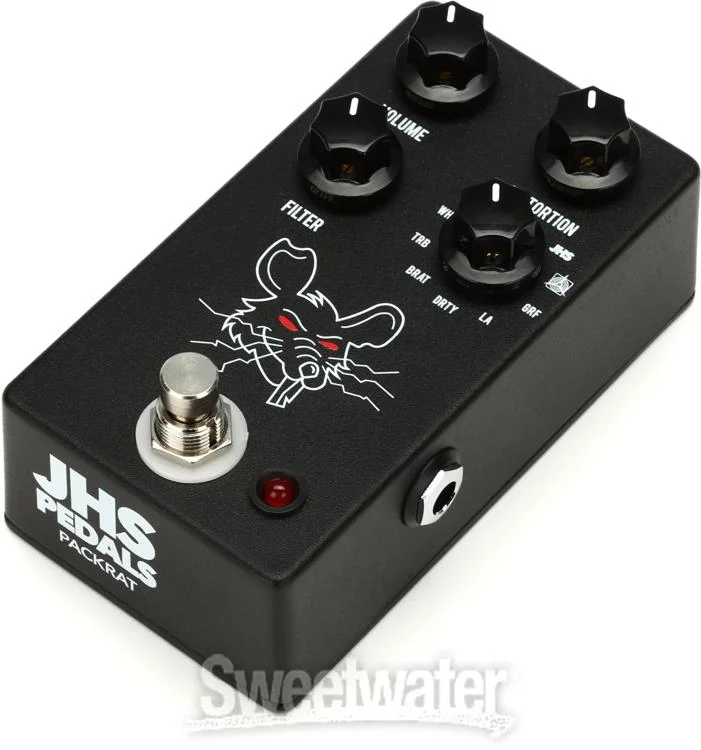 An infestation of pedals packed into one housing
OG (1979–83): This mode is a spot-on re-creation of the first production "Big Box" models, complete with accurate Filter/Tone control rotation and taper.
White Face V3 (1984–1986): This mode apes the famous white pedal — the Holy Grail version for collectors — with its uniquely tapered Filter control.
Turbo V6 (1989): This LED-fueled mode delivers extreme clipping with touch-sensitive saturation.
BRAT (1997): Invoking '90s-era grunge, this mode includes soft clipping and capacitor value changes for altered frequency response and unique distortion characteristics.
Dirty (2004): This mode evokes the "dirty" side of the popular 2-in-1 rodent pedal, deploying germanium diodes for over-the-top saturation and waveform clip-off.
LA (1986): This mode harkens back to a Sunset Strip-themed, Japanese-built stompbox with capacitor changes for altered frequency response, and no clipping diodes — the distortion was produced by overloading the op-amp.
Landgraff MO'D (1999): This mode is based on a turn-of-the-century boutique stompbox with a unique swirl paint job and point-to-point wiring.
Caroline (2010): Replicating a South Carolina-built boutique pedal, this mode is a clever take on the famous rodent-style circuit.
JHS (2008–2018): JHS's long-running All American and PackRat modifications performed on thousands of stock pedals.
JHS PackRat Pedal Features:
Distortion/fuzz/overdrive pedal that packs 9 classic stompboxes into a single housing
Replicates 4 decades' worth of pedals using analog circuitry
Boasts the exact same components as the source units
Dial in the perfect sound with Volume, Filter, and Distortion controls
True bypass switching preserves your tone when the pedal is off
Ruggedly built and handwired pedal