Six Classic Fuzz Tones in a Single Pedal
Add an entire collection of vintage-inspired tones to your pedalboard with the JHS Muffuletta Fuzz pedal. The Muffuletta starts off with five classic tones derived from one of the most classic fuzz pedals, then adds their own tweaked version for a total of six choices. The Tone, Sustain, and Volume controls let you sculpt your ideal fuzz tone. Musicians have been using these classic fuzz tones for decades to create their signature sounds, and now you can have an entire collection of them in a single pedal with the JHS Muffuletta Fuzz pedal.
Six fuzz tones for sonic versatility
Over the years there have been many incarnations of this classic fuzz pedal, but only the JHS Muffuletta takes five of the most famous ones and shoehorns them into a single pedal. The Muffuletta's Mode selector lets you choose between these five classic models and one original model by JHS. Each mode is shown by an image that represents the graphics found on that era of fuzz pedal. Sweetwater guitarists know that the ability to hit your amp with just the right level is an important ingredient in great guitar tone. When you need a wide rage of fuzz tone, you'll appreciate JHS's Muffuletta fuzz pedal!
The Civil War: More mids, less gain, brighter tone
The Russian: Less low end, less clarity
The Pi: More aggressive sound
The Triangle: More low end and articulation
'73 Ram Head: Less gain, scooped mids, and darker tone
JHS 2015: Less compressed, more power, punchy mids. Great for bass.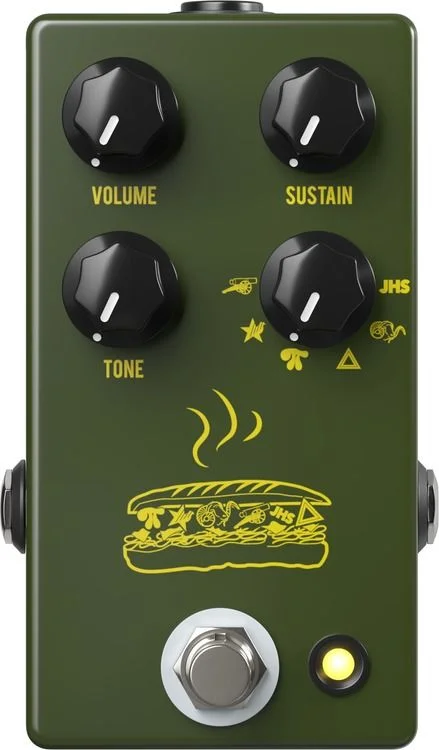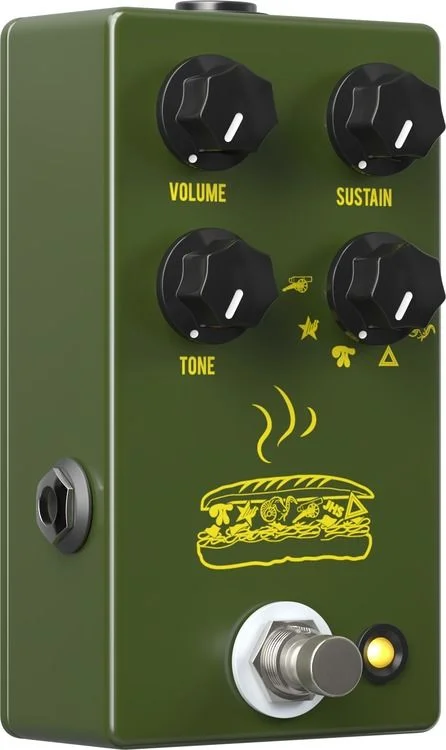 JHS pedals are handcrafted tone machines
When you plug your guitar into a JHS pedal like the Muffuletta, you're tapping into care and passion that few manufacturers put into their products. Each JHS pedal is hand built and tested by the JHS team in Kansas City, Missouri. Because they design their pedals for specific musical purposes, we're sure there's a JHS pedal that's perfect for any player's rig.
JHS Muffuletta Fuzz Pedal Features:
6 fuzzes shoehorned into a single pedal
5 classic vintage fuzz modes and one JHS-specified tone
Dial in the perfect tone with Volume, Tone, and Sustain controls
True-bypass switching preserves your tone when the effect is disabled
Requires 9V power supply, not included
Ruggedly built and handwired pedal