A Moderate-gain OD with a Satisfying Touch Response
As its name implies, the J. Rockett Touch Overdrive delivers a highly interactive playing experience between the player's technique and instrument output. Touch dynamics remain intact even at higher gain levels, and volume swells and rolls can have a dramatic effect on the Touch Overdrive's perceived purr and roar. For a pedal this sensitive, there is a surprising range of gain to be found within the Touch Overdrive; humbucker and high-output pickup users may never reach its cap. Additionally, the Touch Overdrive's Tone knob provides a musical sweep that players of multiple guitars (single-coils, soapbars, etc.) are sure to make liberal use of. True bypass switching and a low current draw (just 10mA) minimize the Touch Overdrive's footprint on your tone and board.
Part of the J. RAD Jet Series
The Touch Overdrive is a proud addition to J. Rockett's limited-edition Jet Series. Pedals in this range are priced to give players everywhere — pros to hobbyists — boutique-quality, USA-made tones in small, affordable designs. Standard features include ruggedly built 3.50" x 1.75" enclosures, tone-preserving true bypass switching, and top-mounted input and output jacks for pedalboard setup convenience. For quality tones at great prices, be sure to check out the J. RAD Jet Series of pedals — available for a limited time through Sweetwater.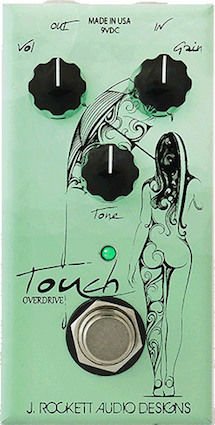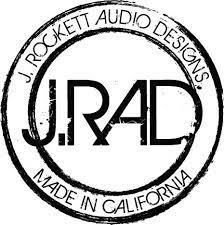 J. Rockett Touch Overdrive Pedal Features:
A moderate-gain OD with a satisfying touch response
Responds well to touch and dynamics
Cleans up with your guitar's volume knob
Sweet tonal sweep courtesy of the Tone knob
Convenient top-mounted input and output jacks
Tone-preserving true bypass switching
Powered by a standard center-negative 9-volt wall supply (not included)
Small current draw — just 10mA
Proudly handbuilt in California, USA