Built for High-speed Aggression
Comfort equals speed. That's the idea behind the Ibanez Iron Label RGAIX6MQM. Its Nitro Wizard neck is aptly named — it's like giving your hand a shot of nitrous. Get your fingers on this guitar's ultra-playable birds-eye maple fretboard, and you'll get the idea. The RGAIX6MQM is built from a classic maple-over-mahogany tonewood combination, so it delivers a ferocious blend of resonance and bite. Beyond that, you'll experience the utmost in aggression and clarity, thanks to a set of coil-tapped DiMarzio Fusion Edge humbuckers. A Gibraltar Standard II bridge gives you unimaginable sustain, while Gotoh locking tuners provide superior tuning stability. If you're into high-speed savagery, the RGAIX6MQM was tailor-made for you.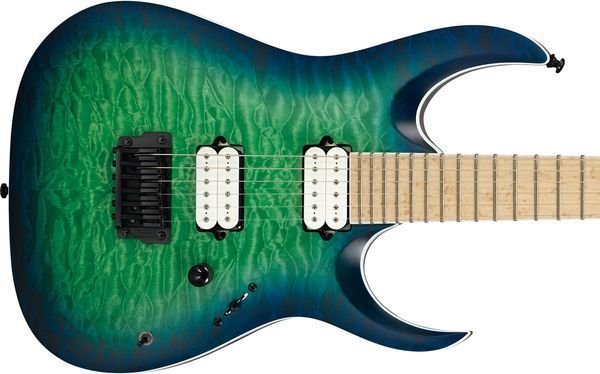 A high-performance machine with the looks to match
One look at the Iron Label RGAIX6MQM and you know it's a high-performance machine. Its classic tonewood of mahogany sounds warm and has plenty of sustain and attack. Beyond that, an eye-catching quilted maple top adds the perfect amount of bite to your tone. Ibanez outfitted the guitar with their famed Gibraltar Standard II fixed bridge that is sunk into the guitar's body, ensuring great energy transfer and tuning stability. And a set of locking Gotoh MG-T tuning machines aid in the tuning and make your string changes fast and effortless.
DiMarzio Fusion Edge humbuckers deliver aggression and precision
This guitar sounds mean. A lot of that comes from its two DiMarzio Fusion Edge passive humbucking pickups. The Fusion Edge humbuckers were designed in collaboration with Ibanez to get the most clarity, power, and a fast attack from the Iron Label instruments. This makes them ideal for fast staccato riffing, quick single note runs, and big, soaring chords. And the onboard coil-tap switch further adds to the RGAIX6MQM's sonic versatility. These pickups are a favorite among the high-gain enthusiasts at Sweetwater.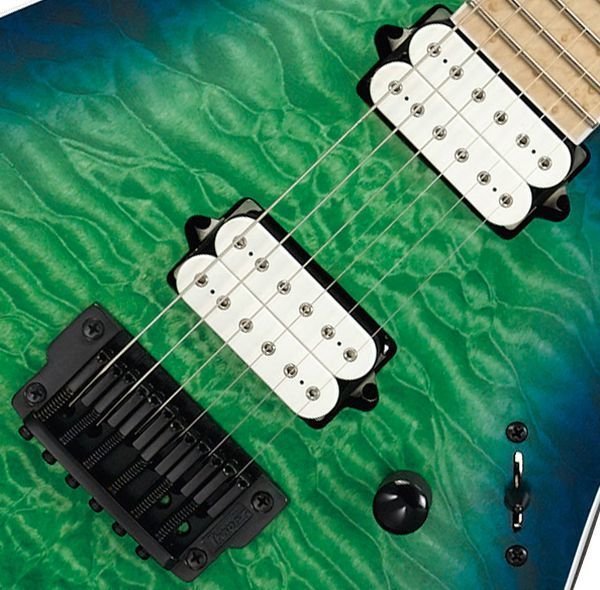 Nitro Wizard neck was built for speed
Every inch of the Iron Label RGAIX6MQM was built for high-velocity playing. Every fleet-fingered guitarist is well acquainted with Ibanez's Wizard neck profile. This guitar is outfitted with their Nitro Wizard neck. It will feel familiar to Ibanez lovers, while the satin nitro finish on the back seems to urge you to play even faster. Up at the deep cutaway, you'll find a comfortably sculpted neck heel and unrestricted access to all of the guitar's 24 frets. And the guitar's body boasts a belly cut in the back, allowing the instrument to fit like a glove.
Ibanez Iron Label RGAIX6MQM Features:
Resonant mahogany body is topped with eye-catching quilted maple
Comfortable 3-piece Nitro Wizard neck is topped with an ultra-playable birds-eye maple fretboard
DiMarzio Fusion Edge humbuckers supply an aggressive, high-output cut that will drive your amp into thick sustain
Coil-tap switch provides access to a vast array of tones
Gibraltar Standard II fixed bridge offers unimaginable sustain
Gotoh MG-T locking tuners make string changes a snap
Luminescent side dots let you know where you are in the dark
Aggressive-looking black hardware