American Tweed and Rectified Amp Tones to Go
The power and portability of Hotone's pint-sized Nano Legacy series come to pedalboards everywhere in the Nano Legacy Floor collection. The 75-watt Hotone Mojo Attack packs two American-as-apple-pie amp flavors into a single paperback-sized enclosure, for true grab-and-go gigging convenience. Connect Mojo Attack to a speaker cab or directly into a PA via the XLR output with switchable onboard speaker simulation, or use both outs simultaneously for an elegant mic-free live monitoring solution. Onboard reverb and boost switches eliminate the need for external FX, while an FX loop gives today's stompbox users the flexibility they demand.
Two amps in one
Mojo Attack's two voices have all your bases covered for glassy classic cleans to milkshake-y high-gain SoCal distortion. The Mojo Diamond channel is based on an early American tweed amp legendary for its influence on rock 'n' roll. Like the original it's based on, this channel is loud and sweet, with just a touch of breakup as you venture out on the gain control. The Heart Attack channel is inspired by the granddaddy of American metal amps, with a tight, controlled chug at moderate settings and laser-gun lead potential toward the top of its gain range.
A pedalboard amp essential
The Hotone Nano Legacy Floor Mojo Attack is making pedalboard amp dreams a reality. With preamps, power, and unbalanced/balanced outs with onboard cab simulation, Mojo Attack and a guitar are the only gear you need to gig out. Pedal lovers at Sweetwater were quick to note Mojo Attack's FX loop, which lets you insert fuzz, time, and atmospheric pedals into your signal chain wherever you see fit. And for barebones gigging, footswitchable reverb and boost make this all the amp you'll ever need.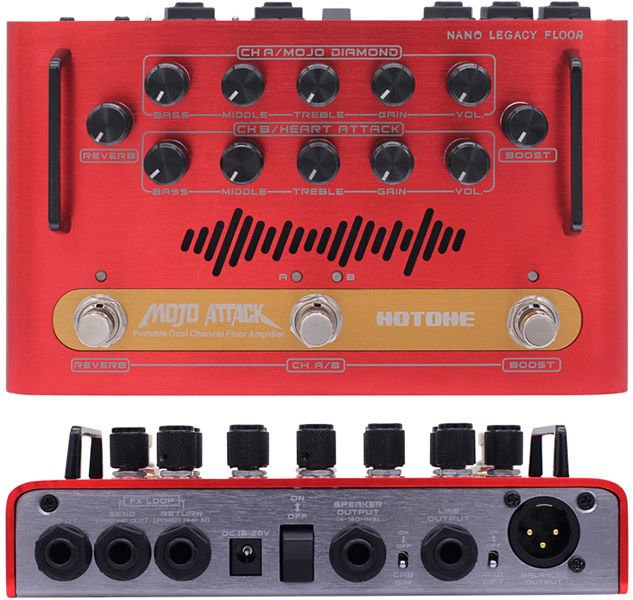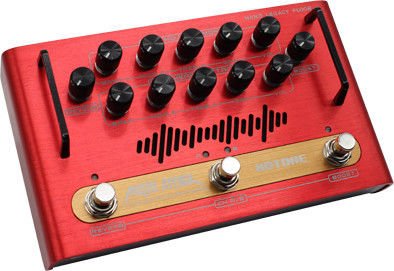 Hotone Mojo Attack Nano Legacy Floor Pedalboard Amp Features:
75-watt pedalboard amp rig
All you need to plug in and gig out
Convenience for fly dates and recording sessions
Two onboard American amp flavors
Mojo Diamond: Hotone's take on the classic American tweed combo
Heart Attack: smooth, rich SoCal high gain
Onboard reverb and boost switches
FX loop for pedal users
Adaptive speaker output (4/8/16 ohms) suits most cabs
Balanced XLR out with switchable speaker simulation
Power: 75 Watts @ 4Ω, 40 Watts @ 8Ω, 20 Watts @ 16Ω
Super portable — approximately 7.5" x 4.5" x 2.0"