Classic Gretsch Tone and Attitude
The Gretsch G5622T Electromatic Center Block semi-hollowbody electric guitar provides you with a wide range of tones fit for any genre. With a laminated maple body, this guitar produces a bright and resonant tone that's perfect for playing live and in the studio. Thanks to the guitar's center block, this axe can handle high levels of gain and produces tons of sustain. This axe comes loaded with two high-output Gretsch Broad'Tron pickups that pump out powerful mids, buttery lows, and crystalline highs. If you're like us at Sweetwater and like thin necks, you'll love the comfortable Thin U-shaped neck on this guitar. The Gretsch G5622T Electromatic Center Block Semi-hollowbody lets you capture all the Gretsch sound without all the feedback.
Hot Broad'Tron pickups and classic controls
The Gretsch G5622T pumps out more tone than you'd expect, courtesy of two Black Top Broad'Tron pickups. These humbucking pickups were designed to create a hot signal with thick, powerful mids and exceptionally clear highs. These pickups are the perfect combination of raw power and shimmering cleans. You can explore the power of the Broad'Tron pickups via the master tone, master volume, and individual pickup volume controls.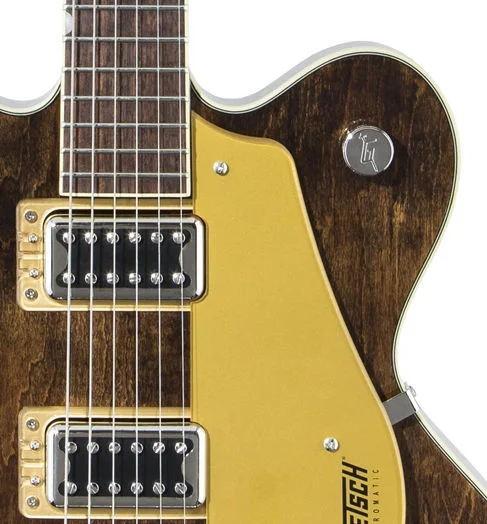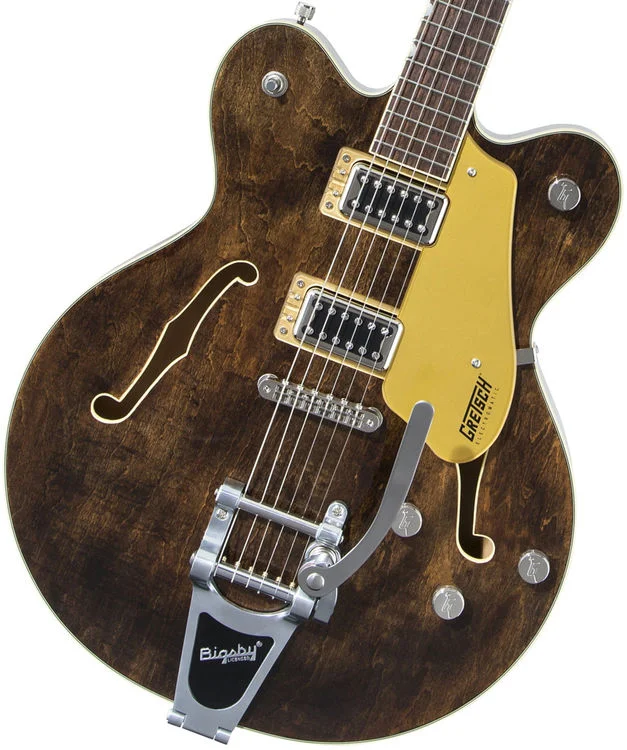 Semi-hollowbody construction resists feedback
With the Gretsch G5622T, you'll get tons of sustain without the feedback of hollowbody guitars. Thanks to the full-length center block, this guitar resists resonant frequency feedback. This allows you to dial up the gain without making your amp squeal. As an added bonus, the bridge and tailpiece are screwed directly into the center block in order to increase sustain and note clarity.
Superb vibrato tailpiece
For those who love mellow vibrato, you'll adore the Bigsby B70 vibrato tailpiece that's installed on the Gretsch G5622T. You can use this tremolo system to create smooth dipped chords and accented bends. The character and vintage vibe of the Bigsby doesn't just sound great, it looks great too. The rugged construction of the vibrato ensures that you'll be able to create subtle vibratos for years to come.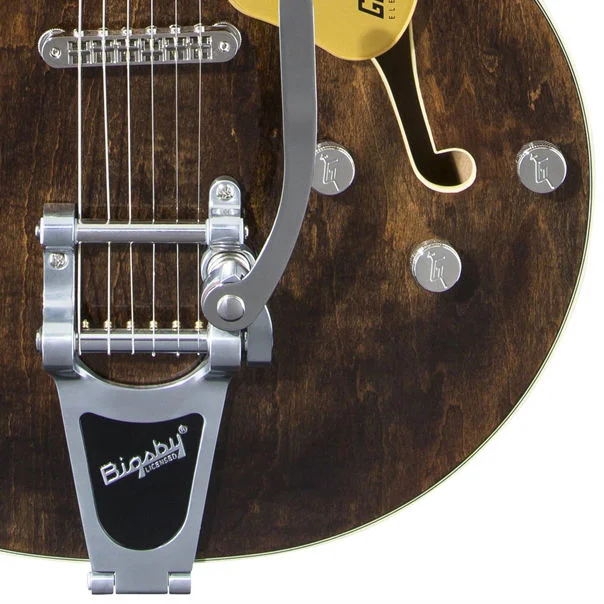 Gretsch G5622T Electromatic Center Block Semi-hollowbody Electric Guitar Features:
2 Broad'Tron pickups pump out hot, powerful tones

Laminated maple body construction provides a snappy, bright attack

Laurel fingerboard adds warmth to the tone

Neo-classic thumbnail inlays add to the classic Gretsch look

Bigsby B70 tailpiece lets you perform smooth bends

Double cutaway body helps add depth and focus to the sound