The Fender Offset Guitar for Tele Fans
If Fender's classic offset guitars aren't distinctive enough for you, check out the Limited Edition Parallel Universe Meteora solidbody electric guitar. It starts with an ash body shaped with extreme curves — it looks amazing and balances exceptionally well too. The neck is an American Professional Jazzmaster neck with an American Vintage '65 Jazzmaster profile, and the bridge is an American Professional Tele bridge with compensated brass saddles. Complete with a Custom Shop vintage-style Tele bridge pickup and a Custom Shop Twisted Tele neck pickup, the Fender Limited Edition Parallel Universe Meteora rewards adventurous guitarists with an impressively wide sonic range.
Custom Shop Tele pickups cover a vast sonic range
While it sports a curvy body similar to a Jazzmaster or Jaguar, the Parallel Universe Meteora barks like one of the most enthusiastic Telecasters you've ever heard. With a Custom Shop Vintage-style Tele pickup in the neck position and the acclaimed Custom Shop Twisted Tele in the bridge position, you've got the tonal range to handle practically any musical style. Telecaster fans at Sweetwater appreciate the Tele bridge too, with compensated brass saddles for precise intonation.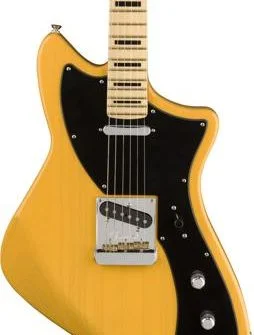 Fender Limited Edition Parallel Universe Meteora Solidbody Electric Guitar Features:
Combines elements from classic '60s Fenders for unique looks, feel, and tone
Ash body with distinctive offset shape looks sweet and balances well
Custom Shop Telecaster pickups deliver explosive tone with a wide sonic range
American Professional Jazzmaster maple neck with American Vintage '65 Jazzmaster profile (Deep C)
American Professional Tele bridge with compensated brass saddles