Classic Strat Tones and Undeniable Looks
The Fender Special Run Traditional '50s Stratocaster gives you the classic Strat sound, along with eye-catching looks that you can't deny. It all starts with a basswood body, which infuses your playing with a growling warmth and plenty of midrange pop. A trio of vintage-style Strat pickups puts a full range of classic tones at your fingertips. Enjoy amazing playability, thanks to a C-shaped maple neck. Twist and bend to your heart's content with a 6-saddle vintage-style synchronized tremolo. This limited-run MIJ Traditional '50s Stratocaster comes complete with vintage-style tuners, vintage white plastic knobs, and classic body contours.
The guitar that changed the world
There may not be a model of electric guitar that is more ingrained in modern culture than the Fender Stratocaster. Its finely sculpted body, groundbreaking tremolo design, and clear-as-a-bell trio of single-coil pickups come together in an instrument that is embraced by players in every genre of music around the world. This limited-run Made in Japan Traditional '50s Stratocaster is the direct descendant of all those iconic guitars. And it boasts all the same features, playability, and versatility that helped make it a standard.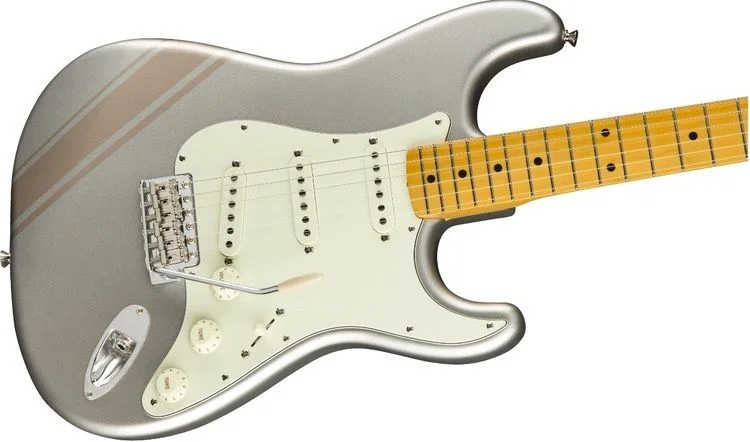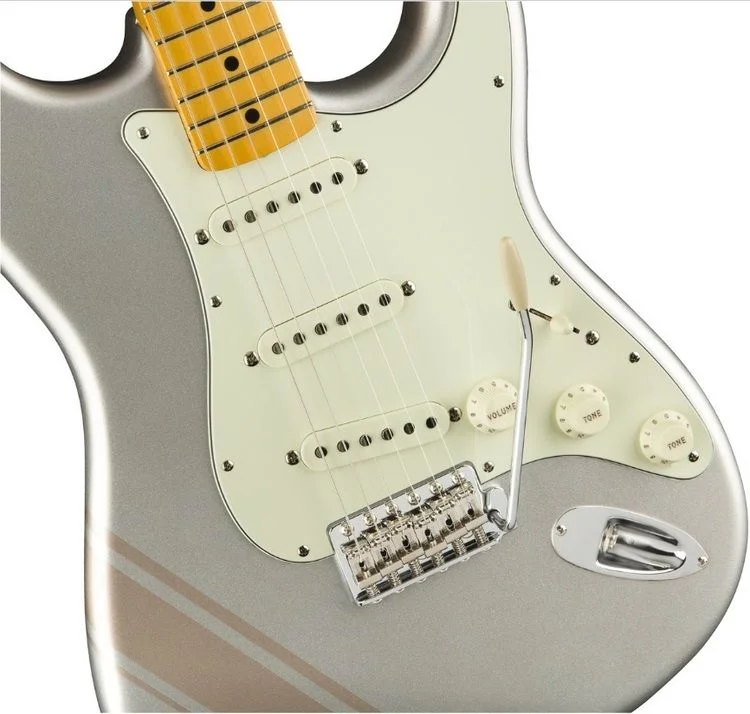 The trademark Strat sound
Leo Fender designed the original Stratocaster with three single-coil pickups, enabling it to produce sounds that no other guitar could — particularly once players discovered they could lodge the 3-position blade switch in those in-between positions to access polarity-reversed neck/middle and bridge/middle pickup combinations that produced what is affectionately called the Strat "quack." The FSR Traditional '50s Stratocaster comes with three vintage-style single-coil pickups selected by a modern, 5-position blade switch, making it easy to nail those glassy Strat sounds with a flick of the switch.
Fast-playing C-shaped maple neck
In keeping with player preferences, the Fender Special Run MIJ Traditional '50s Stratocaster sports a comfortable C shape maple neck and a 7.25"-radius fingerboard with 21 vintage-style frets. The neck is finished with a smooth gloss polyester for a slick, fast feel. With its sleek body contours and highly playable neck, it's no wonder that the Fender Stratocaster has remained one of the most popular guitars on the planet for decades.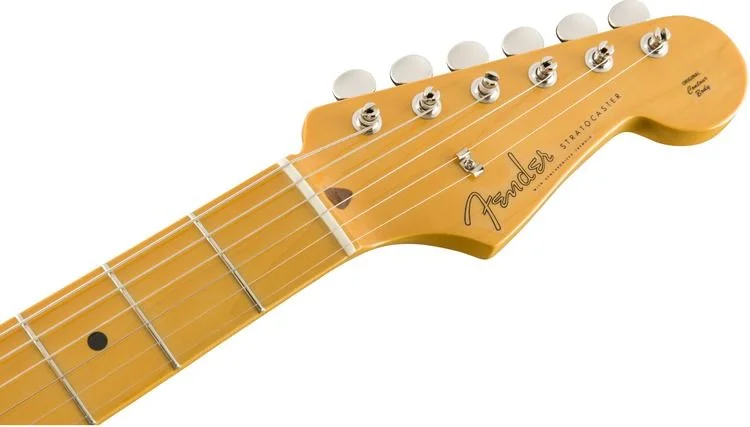 Fender Special Run MIJ Traditional '50s Stratocaster Features:
Basswood body infuses your playing with a growling warmth and plenty of midrange pop

3 vintage-style Stratocaster pickups deliver a full range of classic tones

C-shaped maple neck supplies amazing playability

6-saddle vintage-style synchronized tremolo for bending and twisting

Vintage-style tuners, vintage white plastic knobs, and classic body contours

Eye-catching finish with competition stripe

Limited run