Powerful EQ options
The Nano Battalion's 3-band EQ includes Treble (1kHz knee) and Bass (200Hz knee) shelving boost and cut, plus a Mid switch that provides 9dB of boost or cut at 500Hz. Three signal flow modes determine where the EQ is applied. In Distortion mode, the EQ comes after the distorted signal and has a powerful effect on its timbre, while the clean signal is not affected. In Input mode, the EQ comes first in the signal path, affecting both the clean and distorted signals. Boosting frequencies in this mode can drive the distortion into higher saturation. In Dry mode, the EQ affects the clean signal but not the distorted signal.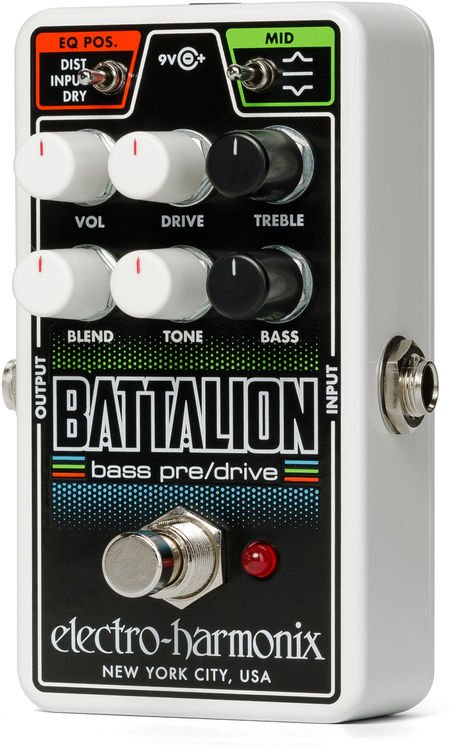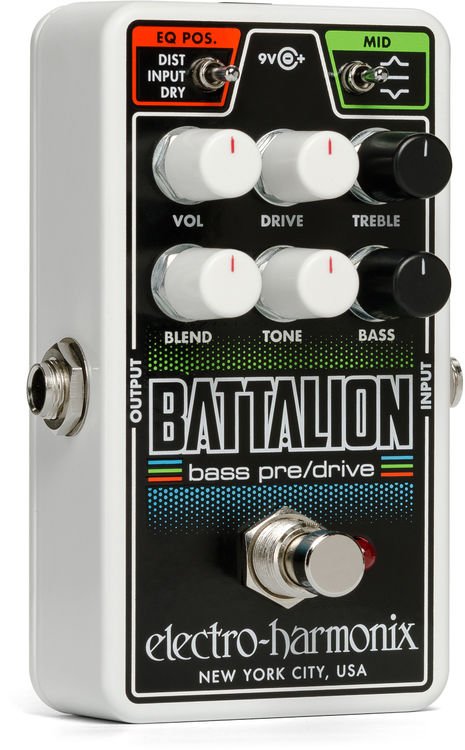 Balanced or unbalanced output
The Nano Battalion is fitted with ¼" input and output jacks. When a TS cable is plugged into the output jack, it delivers an unbalanced signal. When a TRS cable is plugged in, it outputs a balanced signal suitable for direct injection into a recording console or audio interface. Shrinking down a masterful bass preamp/drive pedal like the Battalion invariably involves compromises; but with the Nano Battalion, Electro-Harmonix made wise decisions. To save space, they left out the Battalion's compression circuitry — a smart move, considering many bassists already have a compressor pedal. But they managed to pack the massive punch and tonal richness of the original into a compact stompbox that will fit in your gig bag. Impressive, indeed!
Electro-Harmonix Nano Battalion Bass Preamp and Overdrive Pedal Features:
All-analog circuit with MOSFET drive for great tone and versatility
3-band EQ and 3 EQ position modes for maximum sound-shaping control and flexibility
Optimized for both active and passive basses
¼" jack provides an unbalanced output with TS cable and a balanced signal with TRS cable for direct injection into console or interface
Ships with EHX9.6DC-200 PSU
Dimensions: 2.75" (width) x 4.5" (length) x 2.1" (height)