A Hot-rodded Cry Baby with a Serious Tonal Range
The camouflage-covered Dunlop Dime Cry Baby from Hell is a hot-rodded wah that was the brainchild of Pantera co-founder Dimebag Darrell. It boasts an extended frequency sweep, so you can get both higher and deeper, as well as a 6-way frequency range selector. Plus, to cut through the band, the Dunlop Dime Cry Baby features a dedicated boost switch. Skateboard skid tape covers the pedal area so that a wet foot won't slide off, and there's also a convenient extra output jack on the left-hand side of the Dime Cry Baby, for versatile signal routing.
Designed by Pantera axe-shredder Dimebag Darrell
Darrell knew the Cry Baby, loved the Cry Baby, and worked with Dunlop to create this incredible, hot-rodded stompbox. In addition to its camouflaged look, the Dime Cry Baby from Hell offers a ton of great features — both for sound and for playability — to take this classic pedal to "A New Level."
Extended frequency sweep and 6-way frequency selector
To give the Dime Cry Baby even more sonic diversity, Dunlop extended its frequency sweep range — it can sweep even higher and even deeper than before. Plus, there's a 6-way sweep selector on the pedal, so you can choose what frequency range you'd like to center your sweep on. The guitarists here at Sweetwater appreciate the diversity of tones that are offered by the Dime Cry Baby.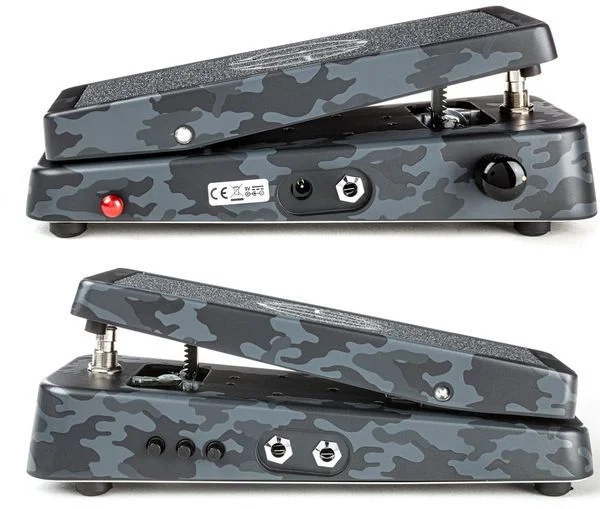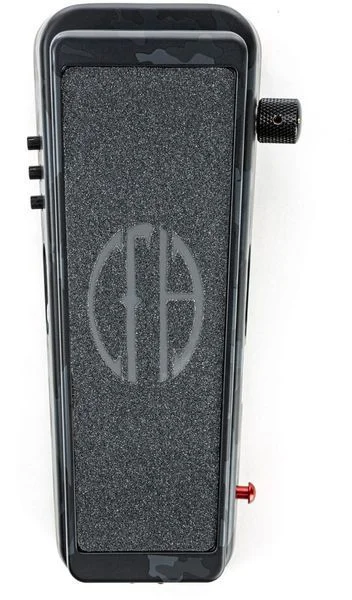 Boost switch for cutting through the mix
When you're entering a wah-infused solo or diving into a lush bridge, sometimes you just want to have that extra juice when you engage the wah, rather than stepping on another stompbox to take your level where it needs to be. That's why Darrell and Dunlop gave the Dime Cry Baby from Hell an additional boost on/off switch — it gives you just enough to float your sound right over the top.
Slide-proof, skid-tape-covered pedal
Darrell loved the original Cry Baby, but knew from experience that if your shoes were wet, they couldn't quite grip the rubber pedal the way you wanted. To solve this issue, the Dime Cry Baby features skateboard skid tape across the top of the pedal area.
Convenient extra output jack on the left-hand side
The original Cry Baby features an input jack on one side and an output jack on the other side. Darrell wanted to make it easier to split your signal to a separate effects chain, so the Dime Cry Baby from Hell features a second output jack on the left-hand side.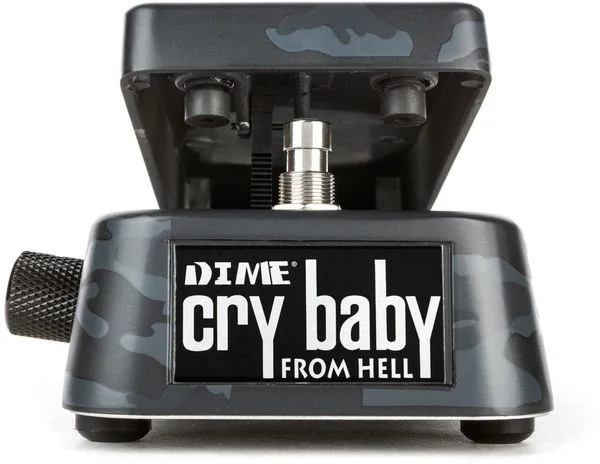 Dunlop Dime Cry Baby From Hell Wah Pedal Features:
Eye-catching black camouflaged finish

Extended frequency range

Adjustable "Q" control modulates frequency breadth

6-position frequency sweep selector knob

Boost switch with adjustable knob from 0dB to 17dB

LED indicators on the back of the pedal

Skateboard skid tape on the top

Extra output jack on the left-hand side of the pedal

Internal switch for second output jack function