Casio Privia PX-S3000 Digital Piano - Black
Casio's Next-gen Privia Stage Piano
Casio's Privia digital pianos are renowned for their authentic playability and lifelike sound. Now the PX-S3000 brings a fresh new design to the Privia series, introducing smart technology into your musical life. With its sleek, glossy panel and unibody chassis, the PX-S3000 evokes a high-end acoustic grand in a svelte, modern design that's not much larger than the keys themselves. The touch-sensor controls are revealed only after the power button is pressed and, they're easy to see in any light. They fade away when powered off, leaving only a clean, seamless top panel. And thanks to Casio's newly designed fully weighted Smart Scaled Hammer Action keyboard, the PX-S3000 provides uncompromising piano touch with a proprietary key scaling system that reproduces the characteristics of each of the 88 notes, while ebony and ivory key textures ensure confident, comfortable playing in any climate.
Grand piano and beyond
The PX-S3000 is loaded with 700 onboard tones, including a gorgeous stereo grand piano. String resonance brings out the harmonic bloom between vibrating strings, while damper resonance adds natural richness and depth. When you play the PX-S3000, you hear the mechanical sounds of dampers rising and keys being pressed and returning to their original position. For even greater detail, hammer response and key-off simulation react naturally to your playing dynamics. You'll also find lifelike tine and reed electric pianos, organs, strings, vibraphone, harpsichord, and more.
Bring in your backing band
With 200 onboard rhythms that span the globe as well as the history of popular music, you'll always have a band ready to accompany your playing. From old favorites to chart-smashing hits, your PX-S3000 rhythm section plays with incredibly realistic instruments that sound better than ever. Drum kits come alive with authentic acoustic drums, vintage drum machine sounds, and a huge collection of percussion instruments and effects.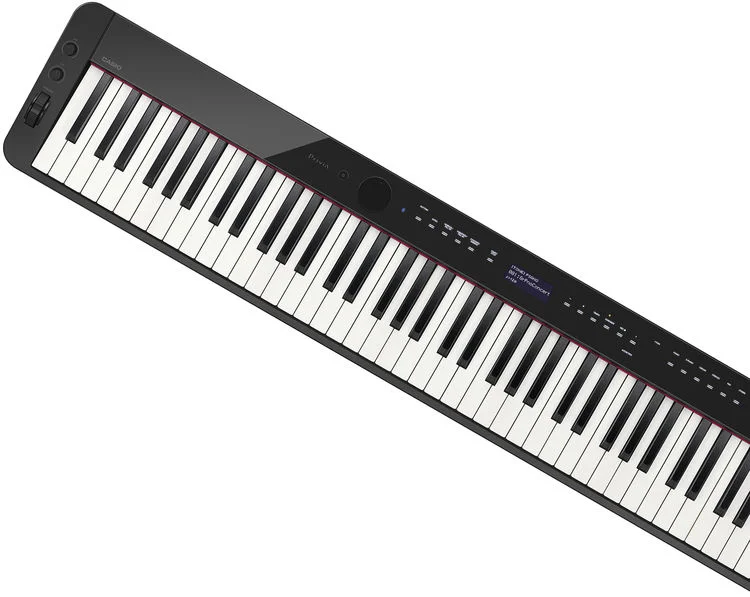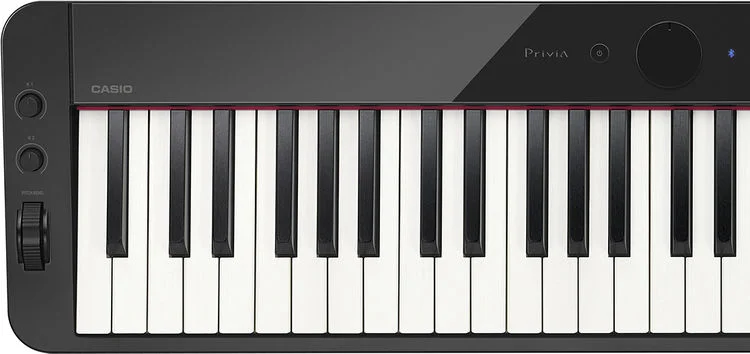 Take control
With class-compliant USB that lets you connect to any Mac/PC/iOS/Android device with no drivers or installation needed, the PX-S3000 makes an ideal master controller for your home studio. It includes a pitch bend wheel for expressive control over its many sounds, plus two assignable knobs that can control the onboard effects and other parameters. In addition to the damper pedal or optional 3-pedal unit, the PX-S3000 has an expression pedal jack for additional modulation possibilities. It's more affordable than many dedicated 88-key MIDI controllers, provides a superb piano feel, and includes a huge collection of studio-quality sounds. And the PX-S3000's trim chassis easily fits where bulkier instruments can't.
Compact and lightweight
Privia pianos have become popular with Sweetwater's gigging keyboardists because they deliver authentic grand piano sound and feel in a compact package. But now Casio has managed to make the PX-S3000 43% smaller than previous-generation Privias without compromising performance. The PX-S3000 will not only look great in any room in your home, but it will also make life easier when it's time to play out — you'll really appreciate its light weight (under 25 pounds) and optional 6 x AA battery power.
Connect and create
Customize your PX-S3000 by downloading the free Chordana Play for Piano app. Change instrument settings, control the MIDI recorder, and develop your technique while learning your favorite MIDI songs with an intuitive piano roll that grades your playing. View PDF scores, and use Casio's optional SP-34 3-pedal unit (or third-party Bluetooth pedals) to turn pages while playing. The integrated audio player gives you independent control over pitch and tempo, and it's capable of removing melodies or vocals from your audio files.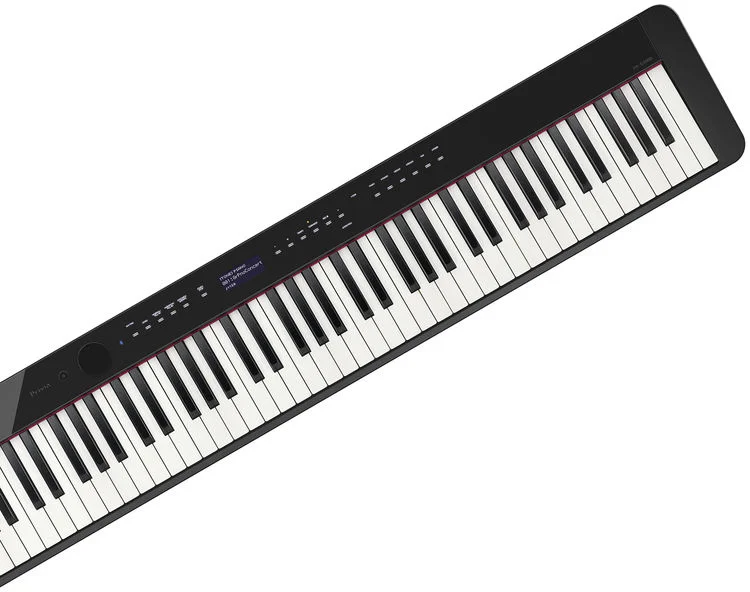 Onboard speaker system and Bluetooth
Integrated Bluetooth audio lets you connect your devices wirelessly to the PX-S3000, playing your music through its powerful stereo speaker system. The onboard amplification system projects crystal-clear sound toward both the pianist and the audience and is engineered to sound accurate whether the instrument is placed against a wall, on a table, or in an open performance space. The speakers project toward the player from stealth ports just above the keys, and sound is directed toward the audience from rear-facing drivers behind an elegantly designed grille. Two headphone jacks allow for quiet practice, duo performances, and teacher/student interaction.

Casio Privia PX-S3000 88-key Stage Piano Features:
Powered by Casio's cutting-edge AiR sound engine
700 tones and 200 rhythms, plus songwriting tools
Stunning piano sounds with damper and string resonance
Beautifully polished top panel design with illuminated touch-sensor controls
Designed to work with the free Chordana Play for Piano iOS/Android app
Powerful stereo speaker system plus 2 headphone and 2 x 1/4" outputs
Class-compliant USB port with no drivers or installation needed
88-note Smart Scaled Hammer Action Keyboard with simulated ebony/ivory key textures
Bluetooth audio for playing along with your favorite songs
Duet mode splits the keys into 2 equal pitch ranges
Slim design that weighs less than 25 lbs.
Optional 6 x AA battery power (AC adapter included)
Tech Specs
Digital Piano

AiR Sound Source

88

Weighted, Smart Scaled Hammer Action

Light 1/2, Normal, Heavy 1/2, Fixed

Pitch Bend Wheel

192 Notes

700 Tones, 200 Rhythms

Reverb

3-track, 5 song

1 x 1/8" (aux in)

2 x 1/4" (L/Mono, R)

2 x 1/8"

1 x Type B (to host), 2 x Type A (to device)

Yes (audio streaming)

1 x 1/4" (damper), 1 x 1/4" (expression/assignable), 1 x 6-pin DIN (3-pedal unit)

Yes, SP-3 Pedal

2 x 6.29"

2 x 8W

LCD

Chordana Play App

AC Adapter (included) or 6 x AA batteries

4"

52"

9.1"

25.1 lbs.

PX-S3000BK
10 Juni 2021
Pesanan Valeton Rushead Bass Meluncur Ke Bekasi, Jawa Barat
SOLD!!! Valeton Rushead Bass by AnterAja... Thx Brader... Enjoyyy...
detail
9 Juni 2021
Pesanan Mic Condensor Audio Technica AT2020USB+ Meluncur Ke Cilandak, Jakarta Selatan
SOLD!!! Audio Technica AT2020USB+ USB Condenser Microphone by AnterAja... Thx Kakak... Mantappp... Sungguh2 recommended micnya
detail
9 Juni 2021
Pesanan Efek Gitar Nux MFX10 Meluncur Ke Cianjur, Jawa Barat
SOLD!!! Nux MFX10 Multi Effect Guitar Processor by Lel Express... Tengkyu Brader sudah jajan di IMS... Pokoknya puas buanget dah maen gitar dengan efek nux... Bintang lima & super joss... Enjoyyy...
detail
9 Juni 2021
Pesanan Efek Gitar Valeton Dapper Mini Meluncur Ke Kab. Pidie, D.I. Aceh
SOLD!!! Valeton Dapper Mini Guitar Effect Strip by SiCepat... Thx Brader... Buat latihan bener2 bersahabat... Enjoyyy...
detail
8 Juni 2021
Pesanan Soundcard Behringer UMC204HD Meluncur Ke Yogyakarta, D.I. Yogyakarta
SOLD!!! Behringer UMC204HD Audio Interface by AnterAja... Tengkyu Kakak sudah jajan audio interface di IMS... Selamat berkarya & sukses untuk projekannya... Enjoyyy...
detail
8 Juni 2021
Pesanan Efek Gitar Valeton Coral Amp Meluncur Ke Bogor, Jawa Barat
SOLD!!! Valeton Coral Amp Guitar Pedal by SiCepat... Tengkyu Brader... Asyikkk dah... Kecil2 bener2 jenius & banyak jenis efek yang bersahabat di pedal yang satu ini... Enjoyyy...
detail
7 Juni 2021
Pesanan Mic Wireless Shure BLX24/Beta58 Meluncur Ke Surakarta, Jawa Tengah
SOLD!!! Shure BLX24/Beta58 Wireless Microphone by SiCepat... Tengkyu Brader... Pake Shure suaranya dijamin super mantappp vokalnya... Enjoyyy...
detail
7 Juni 2021
Pesanan Efek Gitar Behringer UM300 Ultra Metal Meluncur Ke Tasikmalaya, Jawa Barat
SOLD!!! Behringer UM300 Ultra Metal Guitar Pedal by Lel Express... Mantappp laris manisss efeknya... Thx Brader... Enjoyyy...
detail
7 Juni 2021
Pesanan Senar Gitar Akustik D'Addario XTAPB1253 Meluncur Ke Makasar, Jakarta Timur
SOLD!!! D'Addario XTAPB1253 Acoustic Guitar Strings by GRAB... Tengkyu Brader... Senarnya bener2 is the best... Mantappp dah & dijamin puas dengan hasil suaranya...
detail
7 Juni 2021
Pesanan Efek Gitar Valeton Surge EP1 Meluncur Ke Temanggung, Jawa Tengah
SOLD!!! Valeton Surge EP1 Active Wah Pedal & Dunlop 427PJP John Petrucci Pick by AnterAja... Thx Brader... Pilihan gearnya bener2 trust abizzz... Enjoyyy...
detail
» index berita
Enrico
Dari kemarin nyari valeton dapper acoustic mini ga ketemu2, akhirnya dapet nih disini. Malemnya chat besoknya paginya barang langsung sampe dirumah, responnya cepet bgt gokil!
Ami
Beberapa kali beli barang dari bung Tony. Pesan, bayar langsung diantar.... memuaskan, kualiatas barang ok punya.
Albert
Kabel jack bespeco 3m uda sampai nih bos. Packing aman, barang mantap, pengiriman cepat. Di tes, bagus, ga ada noise,, mantap dah, thx bos, sukses terus.
Ferdiansyah
Sellernya ramah & fast respon. Barang juga cepat sampai. Awalnya mau beli di tokped tapi udah kesorean, tapi tetep dilayanin walau manual .. proses satu jam barang sampai! Toko ini recomended. Gak ny...
detail
Salim_alamsyah
[URL]
Salam sukses selalu.terima kasih bosskuh pak tony yg selalu respect sama pelanggan,Pesanan equalizer bss fcs 966 sudah mendarat dengan mulus dijonggol nih,dan sedang saya test zoos mantap perfect bang...
detail
Arema Warda
Salam sukses ya brader, terima kasih blackstar fly stereo nya sudah sampai dengan selamat. Ane puas sekali belanja di sini, semoga terus berjalan dan makin sukses toko musik nya, the best place to b...
detail
» lihat testimonial
» isi testimonial