Boss Katana-110 Bass 1 x 10-inch 60-watt Combo Amp
A Katana for Bass is Finally Unsheathed
This article was Written By
Our Product Research Team
Get to know them!
Bass players rejoice: the incredible sound and flexibility of the BOSS Katana series has entered the low-end realm with the Katana-110 Bass Combo Amp! This 60-watt, 1 x 10-inch combo serves as an all-in-one bass amp for both stage and studio use, with a trio of amp types alongside powerful tone-shaping tools to nail any sound imaginable. With the Katana-110 Bass combo's built-in Comp and Drive controls, you can leave the pedals at home, with FX1/FX2 controls unlocking an even wider range of BOSS-inspired effects. And while this amp packs more than enough power to handle small- to mid-sized venues, onboard attenuation in the form of a Power Control takes you down to 1-watt operation for quieter playing without tonal compromises, as well as a cab-sim-equipped USB and Phones/Rec Out for silent practice sessions. Pair this impressive combo with the BOSS Tone Studio editor, and your sonic options become near limitless — anchor your bass setup with the ultra-versatile BOSS Katana-110 Bass Combo Amp!
Three incredible bass amps in one
Much like the Katana line's other offerings, the BOSS Katana-110 Bass places a strong emphasis on versatility, arming you with three unique amp voicings alongside a wealth of tone-shaping tools and effects. Swapping between voicings is a cinch, with a single knob going from the full-bodied warmth of Vintage to the punch and clarity of Modern and even a Flat option allowing your instrument's organic tone to shine through. Once you find that ideal amp type, a powerful Shape function toggles between three distinct tone characters — mid-scoop, bright, and extended range — with a Pad button next door for some attenuation if need be. Need some additional sonic tweaking? A 4-band EQ with selectable low- and high-mid frequency controls is fully prepared to fine-tune your tone with surgical precision.
All the FX you need built right in
Apart from its studio- and stage-worthy tone, the Katana-110 Bass boasts a quartet of independent effect sections for adding some additional depth and character to your sound. Its Input EFX section sports Comp and Drive buttons with a single knob to dial in the perfect amount of compression and saturation. Sweetwater bassists appreciate the convenience of having these critical tools built right in, made even better with an expansive Effects section that accesses a wide range of additional stomp-style effects for crafting your signature sound.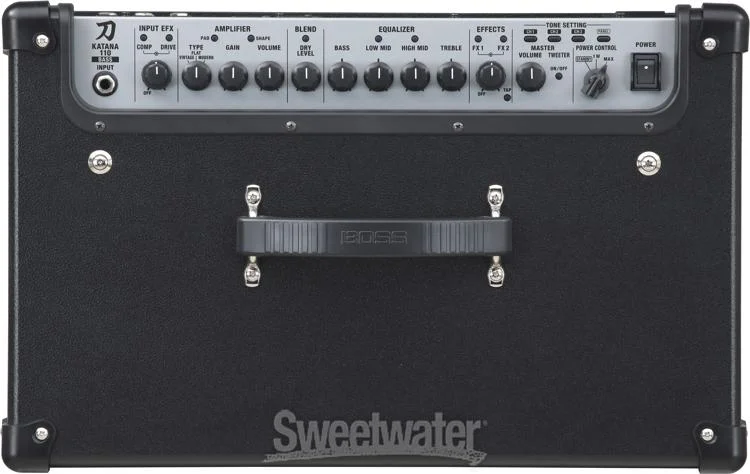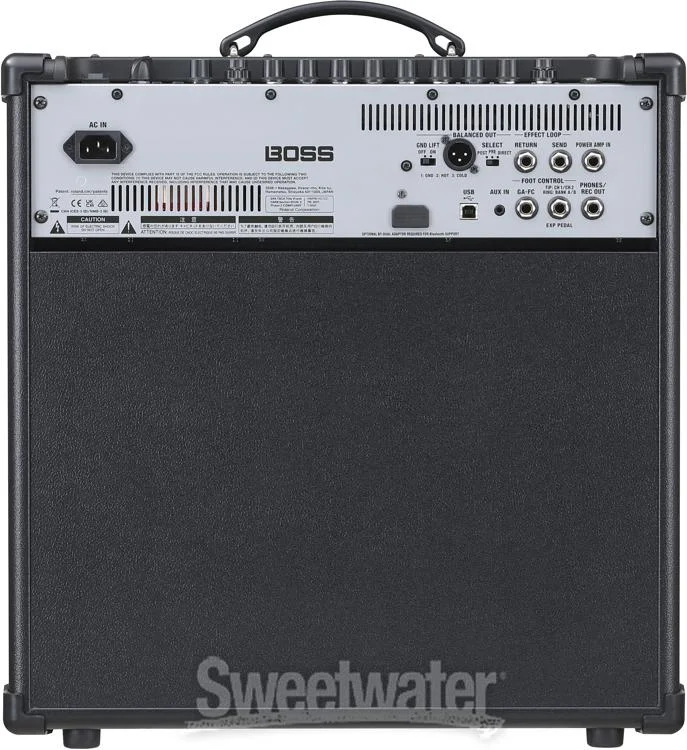 Cab-emulated output for silent recording and performance
While the Katana-110 Bass offers a Power Control for getting cranked-amp tone at a low volume level, you can achieve truly silent operation onstage or in the studio. Cab emulation is available via the USB and headphone/recording output. However you choose to monitor your Katana-110 Bass, it'll feel like you're standing in front of an amp.
Powered by the BOSS Tone Studio
The Katana-110 Bass supports a variety of timeless BOSS effects, with deep customization to further enhance and define your sound using the BOSS Tone Studio software. Simply connect the Katana-110 Bass to your computer via USB, load up Tone Studio, and you're well on your way to creating your own setup. Need some inspiration? Download any of the premade setups created by pro guitarists for a solid tonal starting point. Best of all, the Katana-110 Bass can store multiple custom amp and effects profiles for instant recall, making this combo a versatile multichannel amplifier.
BOSS Katana-110 Bass 1x10-inch 60-watt Combo Amp Features:
1 x 10-inch, 60W bass combo amp delivers wide-ranging tone for all occasions
Single custom 10-inch speaker with a high-frequency tweeter on/off switch delivers powerful low-end
3 selectable amp voicings: Vintage (warm, full-bodied tone), Modern (punchy, clearer tone), and Flat (flat-frequency EQ)
Shape switch lets you dial in mid-scoop, bright, and extended range tone characters
Pad button for additional attenuation
4-band EQ with bass, low-mid, high-mid, and treble controls; low- and high-mid buttons engage respective controls
4 independent EQ sections: Comp, Drive, and FX1/FX2
Blend control mixes in dry signal to taste
6 user presets stored as Memories for instant tonal recall
Tone Setting section with CH 1/2/3 and Panel buttons
Power Control goes from full power to 1W and Standby operation
USB and Phones/Rec Out with cab sim allows for silent playing and easy recording
BOSS Tone Studio editor software deeply customizes your effects and amp settings
Tech Specs
Solid State

Single

60W Class AB (1W setting)

1 x 10" woofer, 1 x 1" tweeter

Yes

Yes

4-band EQ

1 x 1/4" (instrument), 1 x 1/4" (power amp in), 1 x 1/8" (aux in)

1 x XLR

1 x 1/4" (headphones/rec out)

Yes

1 x 1/4" TRS (GA-FC), 1 x 1/4" TRS (expression)

No

1 x Type B

BOSS Tone Studio editor, Bluetooth Audio MIDI (BT-DUAL adapter required, sold separately)

Rear Air Vents

Standard IEC AC cable

19.65"

18.50"

11.81"

37.03 lbs.

KTN110B
10 Juni 2021
Pesanan Valeton Rushead Bass Meluncur Ke Bekasi, Jawa Barat
SOLD!!! Valeton Rushead Bass by AnterAja... Thx Brader... Enjoyyy...
detail
9 Juni 2021
Pesanan Mic Condensor Audio Technica AT2020USB+ Meluncur Ke Cilandak, Jakarta Selatan
SOLD!!! Audio Technica AT2020USB+ USB Condenser Microphone by AnterAja... Thx Kakak... Mantappp... Sungguh2 recommended micnya
detail
9 Juni 2021
Pesanan Efek Gitar Nux MFX10 Meluncur Ke Cianjur, Jawa Barat
SOLD!!! Nux MFX10 Multi Effect Guitar Processor by Lel Express... Tengkyu Brader sudah jajan di IMS... Pokoknya puas buanget dah maen gitar dengan efek nux... Bintang lima & super joss... Enjoyyy...
detail
9 Juni 2021
Pesanan Efek Gitar Valeton Dapper Mini Meluncur Ke Kab. Pidie, D.I. Aceh
SOLD!!! Valeton Dapper Mini Guitar Effect Strip by SiCepat... Thx Brader... Buat latihan bener2 bersahabat... Enjoyyy...
detail
8 Juni 2021
Pesanan Soundcard Behringer UMC204HD Meluncur Ke Yogyakarta, D.I. Yogyakarta
SOLD!!! Behringer UMC204HD Audio Interface by AnterAja... Tengkyu Kakak sudah jajan audio interface di IMS... Selamat berkarya & sukses untuk projekannya... Enjoyyy...
detail
8 Juni 2021
Pesanan Efek Gitar Valeton Coral Amp Meluncur Ke Bogor, Jawa Barat
SOLD!!! Valeton Coral Amp Guitar Pedal by SiCepat... Tengkyu Brader... Asyikkk dah... Kecil2 bener2 jenius & banyak jenis efek yang bersahabat di pedal yang satu ini... Enjoyyy...
detail
7 Juni 2021
Pesanan Mic Wireless Shure BLX24/Beta58 Meluncur Ke Surakarta, Jawa Tengah
SOLD!!! Shure BLX24/Beta58 Wireless Microphone by SiCepat... Tengkyu Brader... Pake Shure suaranya dijamin super mantappp vokalnya... Enjoyyy...
detail
7 Juni 2021
Pesanan Efek Gitar Behringer UM300 Ultra Metal Meluncur Ke Tasikmalaya, Jawa Barat
SOLD!!! Behringer UM300 Ultra Metal Guitar Pedal by Lel Express... Mantappp laris manisss efeknya... Thx Brader... Enjoyyy...
detail
7 Juni 2021
Pesanan Senar Gitar Akustik D'Addario XTAPB1253 Meluncur Ke Makasar, Jakarta Timur
SOLD!!! D'Addario XTAPB1253 Acoustic Guitar Strings by GRAB... Tengkyu Brader... Senarnya bener2 is the best... Mantappp dah & dijamin puas dengan hasil suaranya...
detail
7 Juni 2021
Pesanan Efek Gitar Valeton Surge EP1 Meluncur Ke Temanggung, Jawa Tengah
SOLD!!! Valeton Surge EP1 Active Wah Pedal & Dunlop 427PJP John Petrucci Pick by AnterAja... Thx Brader... Pilihan gearnya bener2 trust abizzz... Enjoyyy...
detail
» index berita
Enrico
Dari kemarin nyari valeton dapper acoustic mini ga ketemu2, akhirnya dapet nih disini. Malemnya chat besoknya paginya barang langsung sampe dirumah, responnya cepet bgt gokil!
Ami
Beberapa kali beli barang dari bung Tony. Pesan, bayar langsung diantar.... memuaskan, kualiatas barang ok punya.
Albert
Kabel jack bespeco 3m uda sampai nih bos. Packing aman, barang mantap, pengiriman cepat. Di tes, bagus, ga ada noise,, mantap dah, thx bos, sukses terus.
Ferdiansyah
Sellernya ramah & fast respon. Barang juga cepat sampai. Awalnya mau beli di tokped tapi udah kesorean, tapi tetep dilayanin walau manual .. proses satu jam barang sampai! Toko ini recomended. Gak ny...
detail
Salim_alamsyah
[URL]
Salam sukses selalu.terima kasih bosskuh pak tony yg selalu respect sama pelanggan,Pesanan equalizer bss fcs 966 sudah mendarat dengan mulus dijonggol nih,dan sedang saya test zoos mantap perfect bang...
detail
Arema Warda
Salam sukses ya brader, terima kasih blackstar fly stereo nya sudah sampai dengan selamat. Ane puas sekali belanja di sini, semoga terus berjalan dan makin sukses toko musik nya, the best place to b...
detail
» lihat testimonial
» isi testimonial