Blackstar Silverline Deluxe Head - 100-watt Head
100W Digital Amp Head with Speaker-emulated Out
The Blackstar Silverline may not be the first digital amp to give variable voicings and onboard FX a familiar face. But it IS one of the first in a long while to make it look so easy and feel so darn fun. From its tube-laden guitar tones to its classic-head looks and controls, the Silverline Deluxe is a thrill to play — strumming "Hallelujah" with reverb or chunkin' out "Unchained" with gain, you'd swear you're parked in front of a tube amp. In addition to its wide gain range (and we do mean WIDE), the Silverline Deluxe provides variable power tube emulation (KT66s to EL84s), an expressive EQ and ISF section, master resonance and presence controls, and gobs of gooey analog-inspired Super Wide Stereo effects. It's all powered by a high-powered SHARC processor and Blackstar's patented TVP technology for realistic approximations of six in-demand amp tones. Not only that, but a speaker-emulated output, MP3 input, and a USB connection make this head a knockout for gigging, recording, re-amping, and preset saving/sharing.
Six amp voicings
Though its top panel may read similar to the ID:Core lineup, the Silverline Deluxe's superior amp voicings are on another level. With the spin of the knob, you've got access to six totally inspiring and entirely customizable amp voicings based on some modern in-demands.
Clean Warm — Based on an American classic. This voicing does a great impression of a Deluxe or a Twin, depending on power tube choice.
Clean Bright — As above, but with a chimier top end and sparklier overtones. Paired with a long hall reverb, this one's perfect for "Sleep Walk" slide work and "Shine On" chordal cleans.
Crunch — A broken-up British combo with raw high-watt heat. We liked this one best with EL84s. Dial back the gain for a touch of dirt, or crank up for sticky, syrupy sustain.
Super Crunch — Based on a consummate British favorite. Think Super Lead to JCM territory.
OD 1 — An all-controls-at-11 "brown" voicing. 6L6s and EL34s bring out the mids of the OD1 voicing in the best way.
OD 2 — 5150 territory. Throw out the gain knob for this one. This channel gives you a great front end for modern hard rock and metal.
Speaker-emulated output
This output gives you the dimensional response of a miked-up cab to facilitate streamlined gigging and recording. So whether you're cranked onstage or whisper-quiet at practice, you've got the freedom to perform and record without a cab and microphone.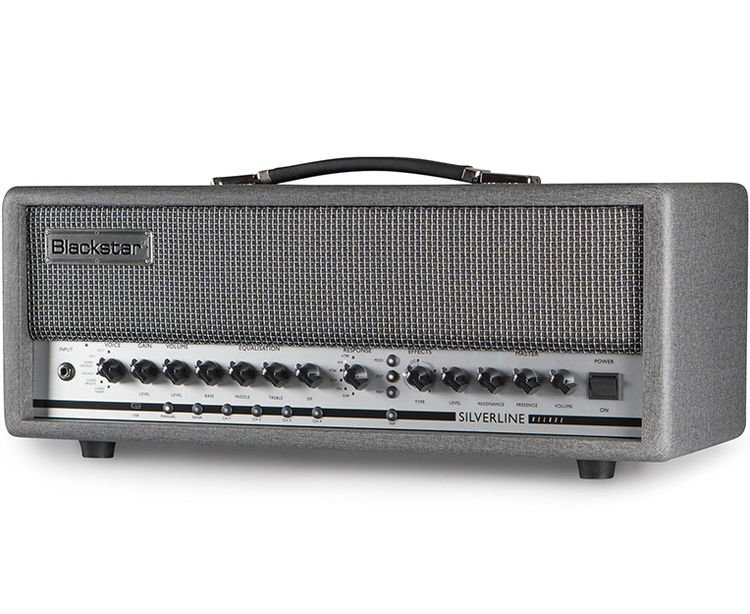 Familiar layout
One of the Silverline Deluxe's best qualities has to be its choice visuals and streamlined controls. Not only does it don the sleek look of today's boutique guitar amps, but it puts every control exactly where you expect it. Gain, EQ, Level, FX — each function is assigned to its own dedicated knob. The smooth silver "faux-lex" and matching silver grille and logo are nice touches to boot.
Variable output tube response
True Valve Power (TVP) gives your Blackstar Silverline Deluxe six different responses modeled after the most popular power tube types. Here you can choose the responsive dynamics, sag, swing, and breakup of your choice from EL84s, 6V6s, EL34s, KT66s, 6L6s, or KT88s. You can create entirely new amp tones on the Silverline Deluxe when you blend your TVP and your ISF controls together to sculpt your signature sound.

Infinite Shape Feature (ISF)
The Blackstar Silverline Deluxe is packed with a massive variety of tube tone, thanks to Blackstar's patented Infinite Shape Feature (ISF). When turned fully counterclockwise, ISF lends an American characteristic to your amp choice, with a tight bottom end and a scooped midrange. Turned all the way to the right, you'll enjoy a more-common British mid-forward voicing. Paired with the onboard EQ, Blackstar's ISF makes the Silverline Deluxe a playground of great sounds.
Endless inspiration awaits
The Silverline Deluxe's six selectable voices can be dialed in with EQ, power tube, and FX choices and saved to one of the amp's preset locations. These presets are then accessible via buttons on the amps control panel or via an optional footswitch. And if you've got a laptop nearby, then you're in for a world of tweakable tones and artist presets. The Silverline's USB connection grants you access to Blackstar's free INSIDER software for deeper editing, preset management and sharing, and even direct recording. Take it from guitarists at Sweetwater: if you've been searching for a giggable solution with real-deal tube amp looks and tones to match, the Blackstar Silverline Deluxe is well worth a look.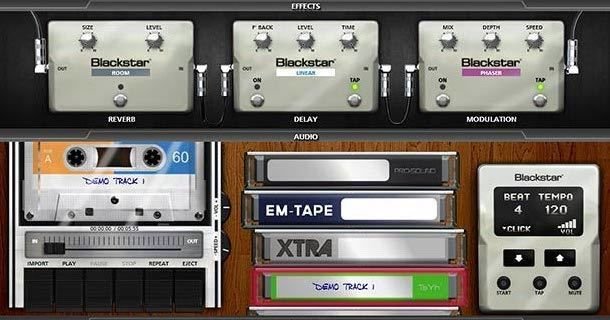 Blackstar Silverline Deluxe 100-watt Digital Amplifier Head Features:
Styled after today's boutique tube amps
Streamlined layout — no menu diving
Powerful SHARC DSP
6 amps voicings: American cleans to British browns
TVP technology lets you mix and match output tubes with amp models
Speaker-emulated output simplifies gigging and recording
3-band EQ, ISF shaping, and master resonance and presence open up worlds of tone shaping
Access to endless tweaks and artist presets via the Blackstar INSIDER software
MP3 input for jamming along to backing tracks
USB connection for direct recording and preset management
22 September 2020
Pesanan Shure SVX288/PG28 & Hercules MS631B Meluncur Ke Kemayoran, Jakarta Pusat
SOLD!!! Shure SVX288/PG28 Wireless Microphone & Hercules MS631B Microphone Stand by GRAB... Seperti biasa fasilitas di kantor perlu banget dah alat alat ini... Dijamin mantappp... Thx kakak... Enjoyyy...
detail
21 September 2020
Pesanan Stand Mic Hercules MS202B Meluncur Ke Pasar Minggu, Jakarta Selatan
SOLD!!! Hercules MS202B Microphone Stand... Cakeppp nih stand nya... Thx Brader sudah jemput by GRAB...
detail
21 September 2020
Pesanan Valeton Rushead Bass Meluncur Ke Depok, Jawa Barat
SOLD!!! Valeton Rushead Bass by JNE... Thx Brader... Top dah pilihan bass pocket amp nya... Enjoyyy...
detail
21 September 2020
Pesanan Dunlop 6582 Ultraglide String & Cleaner Meluncur Ke Depok, Jawa Barat
SOLD!!! Dunlop 6582 Ultraglide String & Cleaner by J&T... Thx Kakak...
detail
19 September 2020
Pesanan Gitar Elektrik Ibanez PGMM31 White Meluncur Ke Tangerang, Banten
SOLD!!! Ibanez PGMM31 White by SiCepat... Wuihhh... Kecil2 ajib & sangar deh sound nya... Thx Kakak...
detail
19 September 2020
Pesanan Efek Gitar Behringer DR600 Digital Reverb Meluncur Ke Batu, Jawa Timur
SOLD!! Behringer DR600 Digital Reverb by J&T... Cihuyyyy... Reverbnya sangar... Thx Brader & enjoyyy...
detail
19 September 2020
Pesanan Senar Gitar Elektrik Ernie Ball 2221 10-46 Meluncur Ke Tanjung Priok, Jakarta Utara
SOLD!!! Ernie Ball 2221 10-46 Electric Guitar Strings by GOJEK... Gasss dah... Thx Brader...
detail
19 September 2020
Pesanan Mic Kabel Shure PGA48 Meluncur Ke Tangerang, Banten
SOLD!!! Shure PGA48 Dynamic Microphone by GRAB... Thx Brader... Happy weekend waktunya karaokean bareng keluarga dengan mic barunya... Enjoyyy...
detail
19 September 2020
Pesanan BKS Polish Meluncur Ke Setiabudi, Jakarta Selatan
SOLD!!! BKS Polish by GOJEK... Thx Brader... Happy weekend & happy cleaning for your instrument...
detail
18 September 2020
Pesanan IVU Creator Player Cable 3m Meluncur Ke Prabumulih, Sumatera Selatan
SOLD!!! IVU Creator Player Cable 3m by SiCepat.... Thx Brader buat boyongannya... IVU Creator cakep... Sound perform perfecto...
detail
» index berita
Enrico
Dari kemarin nyari valeton dapper acoustic mini ga ketemu2, akhirnya dapet nih disini. Malemnya chat besoknya paginya barang langsung sampe dirumah, responnya cepet bgt gokil!
Ami
Beberapa kali beli barang dari bung Tony. Pesan, bayar langsung diantar.... memuaskan, kualiatas barang ok punya.
Albert
Kabel jack bespeco 3m uda sampai nih bos. Packing aman, barang mantap, pengiriman cepat. Di tes, bagus, ga ada noise,, mantap dah, thx bos, sukses terus.
Ferdiansyah
Sellernya ramah & fast respon. Barang juga cepat sampai. Awalnya mau beli di tokped tapi udah kesorean, tapi tetep dilayanin walau manual .. proses satu jam barang sampai! Toko ini recomended. Gak ny...
detail
Salim_alamsyah
[URL]
Salam sukses selalu.terima kasih bosskuh pak tony yg selalu respect sama pelanggan,Pesanan equalizer bss fcs 966 sudah mendarat dengan mulus dijonggol nih,dan sedang saya test zoos mantap perfect bang...
detail
Arema Warda
Salam sukses ya brader, terima kasih blackstar fly stereo nya sudah sampai dengan selamat. Ane puas sekali belanja di sini, semoga terus berjalan dan makin sukses toko musik nya, the best place to b...
detail
» lihat testimonial
» isi testimonial